Stephanie Leigh Schlund On Playing The 'Beautiful But Deadly' Cashmere In The Upcoming 'Hunger Games' Sequel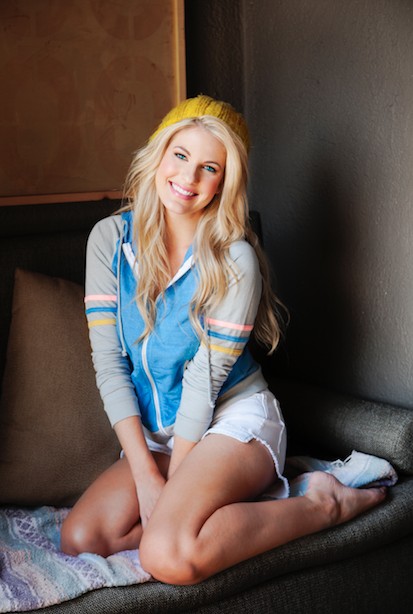 The Hunger Games: Catching Fire opens one week from today. Even if you haven't read the books, you probably know there's another Hunger Games tournament that Katniss and Peeta will have to compete in during the course the film.
Two of the new people they'll have to face in the games include Cashmere (Stephanie Leigh Schlund) and Gloss Schlund (Alan Ritchson.) I recently spoke with Schlund who portrays Cashmere to find out what fans can expect in the highly anticipated sequel.
How would you describe your character of Cashmere?
Cashmere is beautiful but deadly. She's a master at manipulating crowds or one on one. She's confident, arrogant and fearless.
Her brother Gloss, played by Alan Ritchson, play off each other and find joy in winning their battles in the arena.
Did you read the Hunger Games books before you signed up to do the role?
I had not read the books before seeing the first film. Once I left the theater I immediately purchased the books and read them in a matter of days. I vividly remember reading Cashmere's scenes and loved her, little did I know at the time.......
Why do you think the book and now the first film have resonated so much with audiences?
I think the relationship between Katniss and Prim is heart wrenching and understandable. Everyone loves an underdog, the people of D12 stood behind Katniss while we found ourselves standing behind her as well. I believe the series sparked the imagination, leaving us with a shock factor and wanting to see more.
What's it like going head first into a much anticipated sequel and seeing yourself on movie posters... knowing that fans will have such high expectations?
Surreal. I'm still adjusting to it all but thankfully it has not happened over night and I have had time to make adaptations in my life to be better prepared for what is to come.
I kept the secret of being cast as Cashmere for about a month before being announced to the public. I just kept myself focused on preparing and training for the film.
The Hunger Games fandom welcomed me with open arms and sweet comments—the support has been absolutely astounding.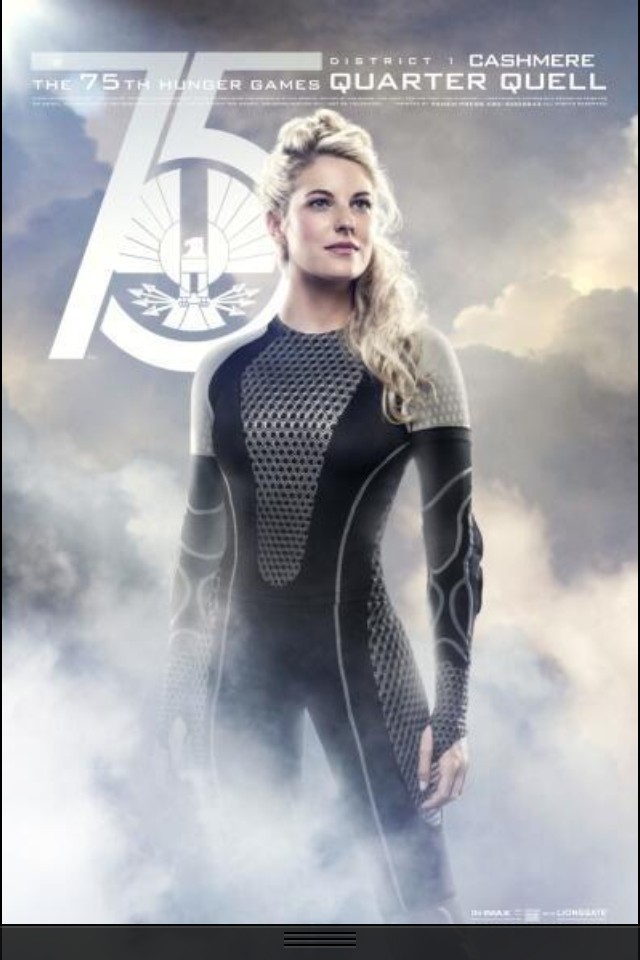 Where else can we see you besides The Hunger Games: Catching Fire?
Hoping to be able to announce my next project soon, but in the meantime I have been focused on bringing awareness to the charitable organizations I support and feel very passionate about.
Final question: if you were Katniss, would you choose Peeta or Gale?
Tough one. I think they both compliment Katniss in different ways. Katniss has enough of her own spark, sometimes needing the calm, steady hand of Peta. Gale however has so much chemistry with Katniss, it'd [be] hard to deny.
Both great guys—some girls have all the luck!