Stephanie Beatriz Enjoying Lead Role On 'Brooklyn Nine-Nine'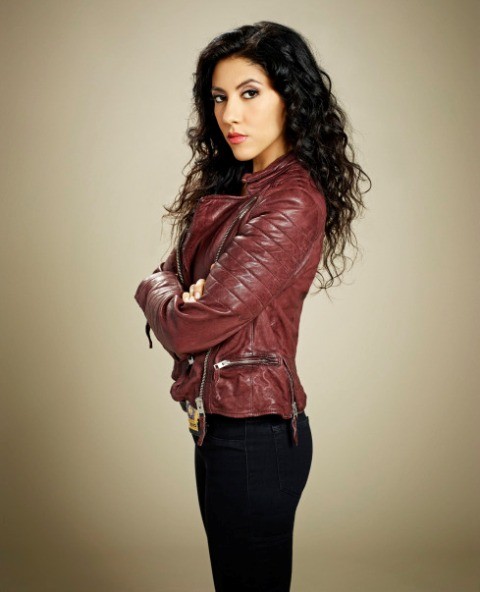 FOX is betting big on the Andy Samberg-led cop comedy Brooklyn Nine-Nine, which has populated its fictional precinct with an eclectic cast. Playing the role of "scary as hell" detective Rosa Diaz is actress Stephanie Beatriz, who sat down with BFTV last week to talk about jumping aboard the new fall series, and what it's like to work in an ensemble that includes both Samberg and Emmy winner Andre Braugher.
"It's really fun. It's great," she said of her new gig. "I think most actors like to do things that are right outside of their comfort zone. It feels really good to sort of surprise people. People that don't know me hopefully will believe that character, and people that do know me will think it's hilarious, because I'm not like that."
Brooklyn Nine-Nine features an interesting lineup of actors - some, like Samberg and Chelsea Peretti, are known primarily for their comedy chops. Others, like Braugher and Terry Crews (The Newsroom), are more familiar to audiences for their serious work.  What's it like working with that combination of folks? "I think everybody's sort of bringing something special and slightly off center to what they're doing," Stephanie told us. "The casting of it was sort of great, because we sort of got this great, funny, weird mix of people that just really seemed to hit it off with each other, not only creatively but also just as people. I think the mix is really good."
She added, "I will say that the Halloween episode is going to be really fun."
The show is the first series regular role for Stephanie, who's not letting that fact intimidate her as she steps into the character of Rosa for hopefully a long time. "I set myself the goal of not getting fired, hopefully," she joked. "That's basically it. I'm trying to sort of hold on and do the best that I can. I just want to go in and bring my 'A' game to whatever they're giving me, because that's all I really can do. I don't know how long it's going to go. I don't know anything. All I can do is show up."
If you're thinking that she looks familiar, she probably does; she's previously been seen in a number of notable projects. "I have a very, very little part in a very beautiful film that's out now called Short Term 12. It's such a good movie. It won the Grand Jury prize at South by Southwest," she told us. "I did an episode of Southland that I thought was pretty great. I thought that was a really fun character. She's a drug-addicted model."
But it wouldn't be out of line to call Brooklyn Nine-Nine a dream job for Stephanie. "I remember my first or second meeting with my agent," she recalled. "He said, 'What do you want to do?' I said, 'I want to be on a television show and I want to do something like Parks & Recreation.' When I actually got an audition for Mike Schur and Dan Goor, who write Parks & Recreation and who write our show, I was so excited, because I knew that at least I understood their kind of humor. I knew that I wanted to try my hand at it.
"The fact that I even got an audition for this show was just an incredible thing," she told us. "When I got a callback, that was great. And then to actually get [the part], I feel like the luckiest girl in the world."
Brooklyn Nine-Nine is all new tonight on FOX.
(c)2013 Brittany Frederick. Appears at Starpulse with permission. All rights reserved. No reproduction permitted. Visit my official website and follow me on Twitter at @tvbrittanyf.