Stars Weigh In On Pope Benedict XVI's Resignation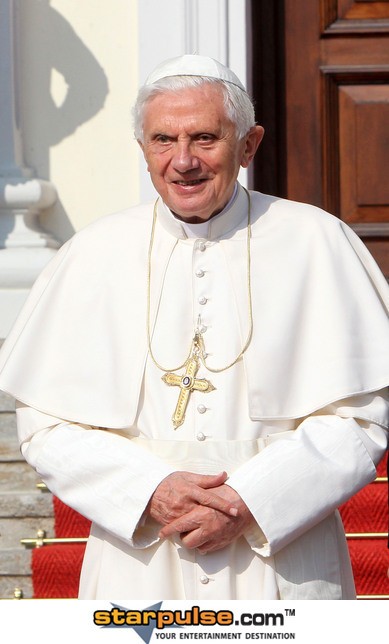 Pope Benedict XVI announced his resignation Monday, citing old age and declining health. The 265th Pope, Born Joseph Aloisius Ratzinger on April 16, 1927, is the first in over 600 years to stand down from the papacy.

Pope Benedict XVI spoke to a small group of Cardinals at the Vatican this morning to make his announcement, which was quickly translated into several other languages.

"After having repeatedly examined my conscience before God, I have come to the certainty that my strengths, due to an advanced age, are no longer suited to an adequate exercise of the Petrine ministry," he said in Latin.

"...in today's world, subject to so many rapid changes and shaken by questions of deep relevance for the life of faith, in order to govern the bark of St. Peter and proclaim the Gospel, both strength of mind and body are necessary, strength which in the last few months has deteriorated in me to the extent that I have had to recognize my incapacity to adequately fulfill the ministry entrusted to me," he said. "For this reason, and well aware of the seriousness of this act, with full freedom, I declare that I renounce the ministry of Bishop of Rome..."

The prompted several stars, like comedians Ricky Gervais and Simon Pegg, to take to their twitter pages to joke about the shocking news.

"Being 'The Pope' means you are married to God. So, is this like a divorce?" Gervais, a practicing atheist, tweeted.

"The Pope has resigned! Surely he can only be fired? God?" Pegg wrote. "I think he got headhunted by Buddha... Do you think there was a moment when the Pope was giving mass on the Vatican balcony and thought, 'I'm too old for this s**t'?"

But other stars like actress Mia Farrow and singer Boy George shared their hopes for Pope Benedict XVI's successor.

"Hoping for a more progressive successor -- imagine a pope more like Arch Desmond Tutu," Farrow writes; while Boy George added, "A new radical Pope perhaps? Let's pray!"

Others, like Brit David Walliams, had delusions of grandeur over the news.

"I have just been asked to be the new Pope. My agent is trying to do a deal with the Vatican as I don't like to work on Sundays."

And actor Kevin James added a zinger (proving he's just not that funny), "From now on, when someone snarks you with 'Is the Pope Catholic?' you can say 'He's not even the Pope anymore'..."

But comedian Patton Oswalt may have come up with the surefire sign-of-the-times idea for finding the Vatican's next Pontiff.

"Top Pope. Reality competition. Do it, Vatican," he wrote.

Pope Benedict XVI's resignation goes into effect February 28 and the College of Cardinals hope to elect a new Pope by March 31, which also happens to be Easter Sunday.