Stars Tweet : Good Riddance DOMA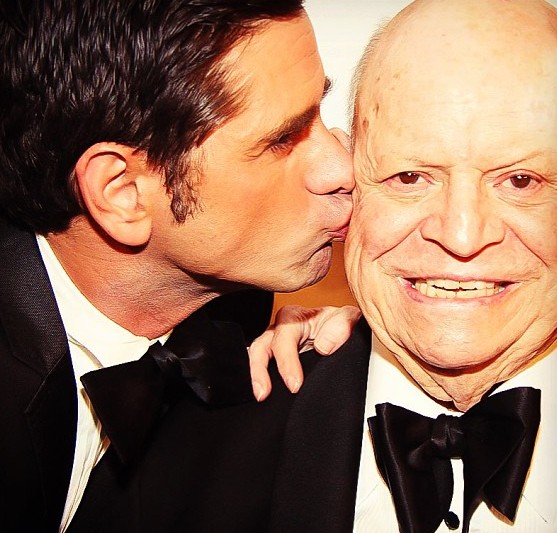 This morning's Supreme Court ruling has made history for the LGBT Communities here in America. At the federal level, the American Justice system has recognized for the first time, the rights of gay, lesbian, bisexual and transgender couples to receive all the marital benefits, rights and privileges that heterosexual couples enjoy. DOMA (The Defense of Marriage Act) is no more.
Today's DOMA ruling is a historic step forward for #MarriageEquality. #LoveIsLove

— Barack Obama (@BarackObama) June 26, 2013
Celebrities have spent the morning Tweeting their thoughts on this milestone moment.
DOMA-it-just-lost-O Mr. Roboto! So, so happy for Edie, et al.

— Neil Patrick Harris (@ActuallyNPH) June 26, 2013
It's a supremely wonderful day for equality. Prop 8 is over, and so is DOMA. Congratulations everyone. And I mean everyone.

— Ellen DeGeneres (@TheEllenShow) June 26, 2013
Great news today!! #domafail #prop8

— Kevin Bacon (@kevinbacon) June 26, 2013
We are all equal and have the right to love. So proud to be an American. #equality

— Nick Jonas (@nickjonas) June 26, 2013
Big news from the Supreme Court. Goodbye #DOMA #Prop8. Hello #equality.

— Ben Affleck (@BenAffleck) June 26, 2013
I'm so happy about today's decision I could kiss a man! http://t.co/rqsWeibdMs

— John Stamos (@JohnStamos) June 26, 2013
I never dreamed I would see this day. The whole world has changed for us all. I can't believe it!! #DOMA #Equality

— Andy Cohen (@BravoAndy) June 26, 2013
DOMA and Prop 8 should get married.

— Seth Meyers (@sethmeyers) June 26, 2013
#PROP8 IS GONE! #DOMA IS GONE! #SCOTUS #LoveIsLove

— Ricky Martin (@ricky_martin) June 26, 2013
DOMA & PROP 8 BOTH STRUCK DOWN! CONGRATS LGBT, it's about damn time! #HUGE

— Aubrey O'Day (@AubreyODay) June 26, 2013
"@cnnbrk: Supreme Court permits same-sex marriage in California by dismissing appeal. http://t.co/PQNxiojFr7" YAYE!!!!!!!!!!!!!!!!!!!!!!!!!!

— P!nk (@Pink) June 26, 2013
Gay, straight, lesbian, bi.. No one is better than any one else. What an incredible day for California AND for equality.

— demetria lovato (@ddlovato) June 26, 2013
Historic day. Well done #SCOTUS. RT @GLAAD: Supreme Court affirms that #DOMA is unconstitutional! pic.twitter.com/FZCXAFc9ca

— Leonardo DiCaprio (@LeoDiCaprio) June 26, 2013
Down w DOMA! Something to be very proud of this upcoming July 4th. We are making beautiful progress for Equality! #proud

— Adam Lambert (@adamlambert) June 26, 2013
Now when people ask "Are you legally married". I don't have to say "Yes, I live in Connecticut". I can say "YES! I LIVE IN AMERICA! #duh".

— Michael Buckley (@buckhollywood) June 26, 2013
Today marks a watershed moment in history and a tremendous victory for the principle of equality. The 5-4 decision... http://t.co/Hlxeof1qGZ

— George Takei (@GeorgeTakei) June 26, 2013
For gay American citizens, whether they be celebrity or everyday Joes and Janes, this marks a huge turning point in history. The hashtag #LoveIsLove has never been more true. And that's something everyone, star studded or otherwise can get behind.