Stars Praise Ella Fitzgerald With 'We All Love Ella: Celebrating The First Lady Of Song'; Out June 5

A sensational assemblage of stars honors the incomparable songstress
Ella Fitzgerald
on the Phil Ramone-produced 'We All Love Ella: Celebrating The First Lady Of Song' (June 5, Verve Records). These stars' love of Ella shines through on their musical performances, but they also cite Ella's artistry and music as moving and influential to their own careers.
You can almost hear
Natalie Cole
smile as she sings Ella's famous hit "A Tisket A Tasket." This was the first jazz song Cole ever learned and she practiced it so she would sound exactly like Ella. "When I was seven, I was singing like a 30 or 40 year old woman," she laughs.
k.d. lang
was 20 when she bought her first Ella record and "studied it and studied it and studied it...from then I studied her as a musician." lang's sultry and subdued "Angel Eyes" is a beautiful tribute to Ella's original.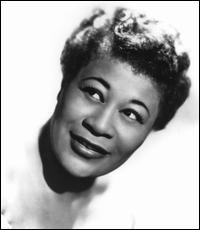 Legendary producer Phil Ramone says, "There is something magical about doing the work of Ella Fitzgerald that gives you a tremendous painting to start with."
Diana Krall
calls Fitzgerald "the greatest improviser, jazz scat singer…a completely natural and amazing woman." She offers a tender rendition of "Dream a Little Dream" with celebrated pianist
Hank Jones
for the record.
Dianne Reeves
highlights Ella's sunny side, saying, "The biggest influence she had on me was there was so much joy in her singing. She absolutely loved singing and you could feel it," a mood that's apparent on Reeves version of "Oh, Lady Be Good."
Breakout singer Ledesi said Ella made "Blues in the Night" "seem so easy." Although she discovered it was harder than she thought, she delivers a remarkable performance.
In Ella Fitzgerald's lifetime, she won 13 Grammy® awards and sold over 40 million albums. Her catalog continues to be as popular as ever and her iconic stature is undiminished. Fitzgerald would have turned 90 on April 25, 2007.
We All Love Ella: A Celebration of the First Lady of Song
is produced by hitmaker Phil Ramone and filled with passionate performances of classics made famous by Ella and sung by world-renowned singers and break-out stars
Michael Bublé
,
Natalie Cole
,
Etta James
,
Chaka Khan
,
Gladys Knight
, Diana Krall, k.d. lang,
Queen Latifah
,
Ledisi
, Dianne Reeves,
Linda Ronstadt
and
Lizz Wright
.
1) A Tisket A Tasket - Natalie Cole
2) Lullaby of Birdland - Chaka Khan
3) The Lady is a Tramp - Queen Latifah
4) Dream a Little Dream of Me - Diana Krall & Hank Jones
5) Mr. Paganini - Natalie Cole & Chaka Khan
6) Oh, Lady Be Good - Dianne Reeves
7) Reaching for the Moon - Lizz Wright
8) Blues in the Night - Ledisi
9) Miss Otis Regrets - Linda Ronstadt
10) Someone to Watch Over Me - Gladys Knight
11) Do Nothin' Till You Hear From Me - Etta James
12) Angel Eyes - k.d. lang
13) Too Close for Comfort - Michael Bublé
Check out this video
For more info on Ella Fitzgerald:
www.CelebrateELLA.com
(Streaming audio and/or video links may expire without notice)