Stars Pay Tribute To Late Los Angeles Lakers Owner Jerry Buss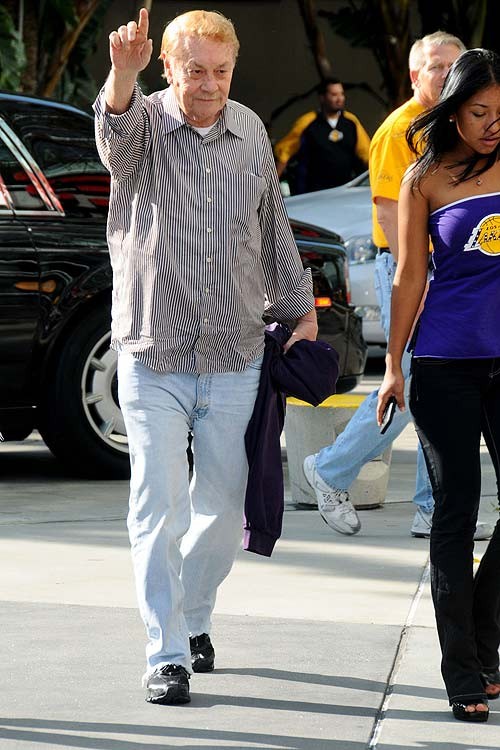 Several Hollywood stars paid tribute to Los Angeles Lakers owner Jerry Buss following his death. The real estate mogul and majority owner of the team -- which won 10 NBA titles under his reign and draws numerous celebrities to its home games -- lost his battle with cancer on Monday at age 80.
Playboy magnate Hugh Hefner, actor Rob Lowe and Maroon 5 singer Adam Levine have all paid their respects to Buss via their twitter pages.

"Learned of Laker's owner Jerry Buss death to cancer." Hefner said. "We've lost a longtime friend." And Motley Crue singer Vince Neil added, "RIP to my buddy Dr. Jerry Buss. We will miss you. A good friend, a great man. A sad day."

Khloe Kardashian, whose husband Lamar Odom played for the team for seven years, wrote, "My heart, love and prayers go out to the Buss family. Thank you for the memories!!! Smile and fly your wings."

Red Hot Chili Peppers bassist flea writes, "wow. thank you dr. jerry buss for all you have done to uplift los angeles, and give me untold joy. rest in peace"; while Levine tweeted, "Thank you Dr. Buss for putting together some of the most soulful and exciting basketball the world will ever see. We're gonna miss you."

And Rob Lowe wrote, "Dr Buss was a visionary, a leader and good friend. Neither the NBA or LA will ever be the same."

Other stars, including David Boreanaz and American Idol judge Randy Jackson also expressed their sympathies.

But Jack Nicholson and record producer Lou Adler, two of the most recognizable faces in the Lakers' courtside seats during home games, have yet to comment on Buss' passing. Neither has a twitter account, and neither could be reached for comment.