Stars Haunted By Past Relationships

In the recent film
Ghosts of Girlfriends Past
,
Matthew McConaughey
's character is visited by three ghosts: past, present, and future. In the process, he sees how he has treated past girlfriends, checks out how he is treating his current girlfriend, and sees what might happen if he continues his foolish ways. McConaughey isn't the only one who has been haunted by relationships; in fact, we've all been haunted by an ex at some point in our lives. Lucky for us, though, we don't have the entire world watching us as we continuously morn over the one who got away, or as we bump into situations that remind us of a former flame. Celebrities, on the other hand, are not so lucky.
Here is a look at celebrities who are haunted by past relationships:
Every since Jen and
Brad Pitt
split, rumors have been circulating about the cause of the divorce. With Brad and
Angelina Jolie
on the cover of almost every magazine, its not secret that their affair is probably to blame for Jen and Brad's failed relationship. While Jen tries to get back in the game with other celebs who clearly don't measure up (cough, cough,
John Mayer
,) Brad and Angelina are out saving the world, adopting one child at a time. It seems like until Jen can find Mr. Right, her ex and his new beauty will continuously haunt her.
- Click pic for next page -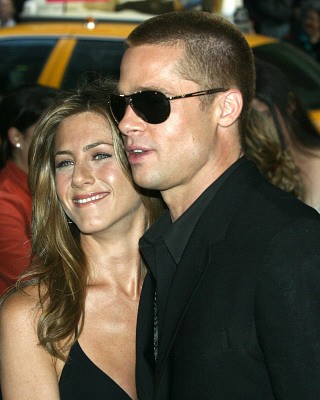 Image © Janet Mayer / PR Photos