Stars Collide For ZZ Top Tribute Album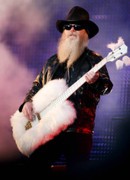 Wyclef Jean, Grace Potter and Nickelback are among the eclectic mix of stars paying tribute to bluesy rockers ZZ Top on a new album.

The acts have recorded new versions of the trio's hits, including "Legs," "Rough Boy" and "Sharp Dressed Man" for the compilation "A Tribute From Friends."

The album features the first recording by Mick Fleetwood's new supergroup M.O.B., which includes his Fleetwood Mac bandmate John McVie, Aerosmith's Steven Tyler and guitarist Jonny Lang.

Fleetwood admits he was thrilled to be asked to be a part of the tribute: "We're delighted to honor ZZ Top this way. Their legacy, like that of the original Fleetwood Mac, is steeped in the blues we all love so much. I know that Steven and Jonny feel as strongly about their legacy as John and I do."

The new album also features covers by Filter, Mastodon, Wolfmother, Loaded and Jamey Johnson.