Starpulse's Explosive Summer Movie Preview
JUNE
June 5:
Land of the Lost
- If you decide you have to choose between seeing this film and seeing
Year One
, please choose the latter. The television show worked well enough on its own and didn't need to have new life breathed into it via the film industry.
Hangover
- This new-ish trend of the buddy entourage comedy, the bro-com if you will, is actually working (see
Role Models
). Wedding jitters solved by a trip to Vegas? This is a road narrative in blanket comedy clothing.
My Life in Ruins
-
Nia Vardalos
in a comedy involving Greece...Wait, haven't we seen this before? If you cannot afford a trip to Greece this summer then you are justified in seeing this film. If you want a quality, fun film that just so happens to take place in Greece please rent/buy a pre-owned copy of
Mamma Mia!
and watch
Meryl Streep
have the time of her life (pretend
Pierce Brosnan
isn't actually in the film).
Away We Go
- A
Sam Mendes
film about an American couple struggling with relationship and parenting issues? Shocking. We kid, he is a fantastic director. He has also given fans a breather from
Revolutionary Road
.
John Krasinski
(
The Office
) and
Maya Rudolph
are perfect for this film. The supporting ensemble cast could not be better with
Maggie Gyllenhaal
,
Allison Janney
,
Catherine O'Hara
,
Jim Gaffigan
, and
Jeff Daniels
. If you are hesitant about this film just take two minutes to watch the trailer.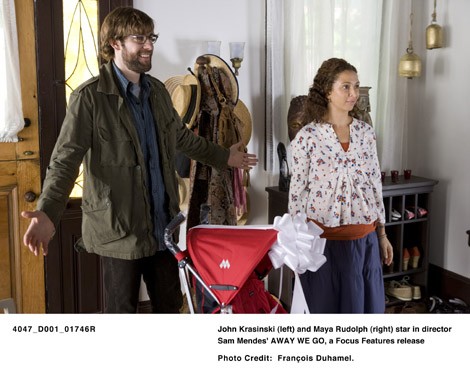 Downloading Nancy
- Nancy (
Maria Bello
) finds herself cripplingly depressed in a loveless marriage, and instead of just searching for a divorce lawyer she searches the internet for a hitman. Twist? For herself. The head-shaker in this one is the fact that she falls in love with him instead. It is an attempt at warning viewers against meeting people on the internet, but will end up being a film worthy of your time.
June 12:
The Taking of Pelham 123
- Yet another remake.
Denzel Washington
can usually do no wrong on screen, but if you are going because you are interested in the plot, please just rent the original.
Walter Matthau
,
Jerry Stiller
,
Doris Roberts
, and
Robert Shaw
cannot be outdone. This film should have been left alone.
Imagine That
- A Disney film that has the patriarchal figure (
Eddie Murphy
) and the entire system (finance company) dependant on his daughter to save his career and the system itself? Interesting...we never thought Disney would green-light a project that has the younger generation (represented by a girl) eclipsing the old. Then again, imagination and thinking outside the box does conquer all.
Moon
- See it. Do not walk to the theater doors- run. While it will hit close to home for those familiar with
2001: A Space Odyssey
it will be a great experience.
Sam Rockwell
versus the robot (voiced by
Kevin Spacey
) in an attempt to get home from a solo stint on the moon, where his job is to monitor devices meant to cull energy to bring back to Earth is allegorically delicious.
June 19:
The Proposal
- If
Disclosure
was a conservative rom-com sprinkled with anti-immigration overtones it would be "The Proposal." Don't like how that sounds? Don't see this film. If you want a
Sandra Bullock
rom-com watch
Divine Secrets of the Ya-Ya Sisterhood
or
Practical Magic
. Jonesing for
Ryan Reynolds
? Watch episodes of
Two Guys, a Girl, and a Pizza Place
or even
Blade Trinity
.
Year One
- The tagline, "Meet your ancestors" reminded us that
Mel Brooks
did it better with
History of the World: Part 1
. After seeing the trailer, and the cast (
Paul Rudd
as Abel?
Hank Azaria
as Abraham?) We decided to place our June 19 theater fate in the hands of
Michael Cera
and Paul Rudd. Poor marketing, good concept.
June 24/26:
Transformers: Revenge of the Fallen
(June 24)- People will flock to this film, which should have had a July 4th holiday release. It will be a typical popcorn blockbuster, but the problems come to surface with Blu-Ray staying power. Watch this one in the theater. Once it hits DVD you may as well watch someone play a video game for 2 hours, as the CGI is obvious in high definition.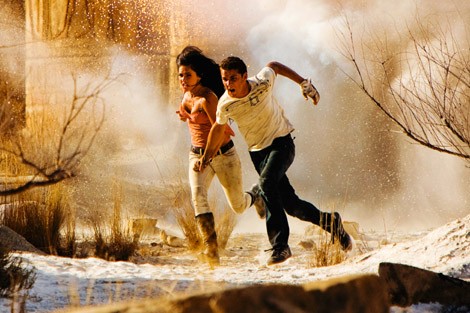 My Sister's Keeper
- Body ownership is and has always been a contentious socio-political topic. This film could be the best thing Nick Cassavetes has accomplished, or it could easily bomb. If you are going to watch
Jason Patric
in a film this summer I would recommend "Downloading Nancy" and save this for a rental.
The Hurt Locker
- An Iraqi war action film, like "Transformers" and "G.I. Joe" are films that have lost their place and relevance. While we are in the beginning stages of the Obama administration, and still feel the aftershocks of Bush, these anti-Bush agenda films will not hold any real weight and should have been released sooner. It will be a well-made film, major points to Kathryn Bigelow as director, but we would have like to have seen this a year ago.
Cheri
- As much as we hate gender demographics in film viewership, this film is most definitely not going to get a large male audience - especially in the summer season. Think
The Graduate
but in a period comedy (pre- WWI France) with
Michelle Pfeiffer
and
Rupert Friend
. I doubt it will do as well as Frears'
The Queen
, but it will be a good lazy Sunday afternoon film.
Click on the next page for July films...