Starpulse's Explosive Summer Movie Preview

Since the dawn of the American cinematic blockbuster in the late 1970s and early 1980s, moviegoers have eagerly waited for May - the unofficial beginning of summertime. This summer is no different. Films, and most popular media, are social mirrors, and this summer season supports that. The large box office contenders all deal with very similar themes: escapism and the support of the lone, outlaw hero figure (
X-Men Origins: Wolverine
,
Star Trek
,
Terminator Salvation
,
Up
,
Transformers 2
,
Public Enemies
,
Harry Potter and the Half-Blood Prince
,
G.I. Joe: Rise of Cobra
,
Inglourious Basterds
, etc). With monumental current political and economic crises it is logical for the film industry to produce these "fight the man" narratives, acting as a galvanizing force and giving theatergoers something and someone they can empathize with.
That being said, there are also darker science fiction, thriller, and horror films. They also have a running theme, dealing more with threats of identity, isolation, and even border-crossing. While some are typical with in the horror genre, as a whole these films make for interesting social commentary (
Drag Me To Hell
,
Not Forgotten
,
Downloading Nancy
,
Moon
, Dead Snow,
All the Boys Love Mandy Lane
,
Orphan
, H2).
Now on with the list...
MAY
May 1:
X-Men Origins: Wolverine
- this film will make money, as all blockbuster films do, but not nearly as much as the X-Men trilogy. Wolverine fighting a helicopter is the focus of the trailers, except this concept has been used before and was executed better (see John McClane in
Live Free or Die Hard
). The best reason to see this in the theater is because there is nothing else worth watching over this release weekend.
Ghosts of Girlfriends Past
- If the rom-com genre was considered to be on the brink of annihilation last year, consider it deceased due to this film. Like villains in a slasher film the genre can rise again, but probably not until
Matthew McConaughey
and
Jennifer Garner
stop their attempt at Hanks/Ryan chemistry. The biggest insult in this film is the use of
Michael Douglas
and
Anne Archer
.
Battle For Terra
- good, basic concept, but this will get lost in the shuffle rather quickly. Humans justifying the annihilation of an unassuming alien planet is an interesting concept (barely), but will not find a niche audience like
9
will later this year. Don't believe it? Watch the two trailers back to back. Bet you will run to "9" later this year.
May 8:
Star Trek
- one of the biggest generators of fandom molded and put on screen by one of its own fanboys (
J.J. Abrams
). This will open big, blowing out "X-Men" and will be a film worth the $10 ticket. Biggest draws that no one else has really mentioned:
Simon Pegg
and the score. If you follow
Lost
this film will sound very familiar, as Michael Giacchino composed the majority of the episodes and is currently also working on
Fringe
. If you are interested in his non-JJ work, go see "Up."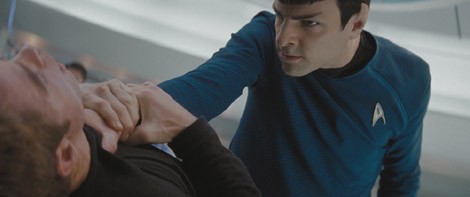 Adoration
- An Atom Egoyan film about a male student who, in an attempt to search for his identity, in a coming-of-age story, ends up writing himself into a story. Twist? He tells all, via the Internet, that he is the product of terrorists. Egoyan's play with fractured identities in a digital age should be an interesting watch.
Little Ashes
-
Robert Pattinson
tries to scrub himself clean from his association with
Twilight
and attempts to play Salvador Dali in a tri-biopic of Dali, Luis Bunuel, and Federico Garcia Lorca. What makes this film's release worth it is the reaction. "Twilight"-ers going to see it for Pattinson will not know what hit them.
May 15:
Angels & Demons
- The novel is far better than its sequel,
The Da Vinci Code
, and we hope the film is as well. The casting, outside of
Ewan McGregor
and
Stellan Skarsgard
, is still off.
Tom Hanks
as Robert Langdon is still not quite right. Hopefully this film will change that. We worry about the screenplay as while David Koepp was also behind
Jurassic Park
and
Death Becomes Her
(author), he also worked on
Indiana Jones and the Kingdom of the Crystal Skull
and
War Of The Worlds
.
Management
- if Matthew McConaughey is the male rom-com B-team,
Steve Zahn
is most definitely the waterboy. The same can be said for
Jennifer Aniston
. The IMDB.com single sentence plot descriptor was a complete waste of time: "A traveling art saleswoman tries to shake off a flaky motel manager who falls for her and won't leave her alone." Do yourself a favor and pretend this doesn't even exist.
Brothers Bloom
-
Adrien Brody
and
Mark Ruffalo
play con men in this genre hybrid rom-com-adventure film who sweep heiress Penelope Stamp (played by
Rachel Weisz
) into their whirlwind illegal hijinks. Word on the street is that it has been collecting dust on the shelf for about a year. This is never - ever - good. It also brings back the nightmare that was
The Brothers Grimm
.
May 22:
Terminator Salvation
(May 21)- The "Terminator" franchise has been stretched and pulled more than
Joan Rivers
. This does not mean that seeing
Christian Bale
as John Connor is not worth your trip to the theater. Admittedly, this is the best John Connor casting choice, but we doubt it will beat Bale's best performance to date: Patrick Bateman in
American Psycho
. Music by Danny Elfman doesn't hurt either, although they should have picked up Bear McCreary who composed music for the TV series,
Terminator: The Sarah Connor Chronicles
(and
Battlestar Galactica
).
Night at the Museum: Battle of the Smithsonian
- close to 75% of the releases over this summer are remakes, franchise additions, or adaptations. This does serve a purpose, however. For adults with younger kids who can be left in a theater with their friends, this is the film for you. Drop them off for this film and treat yourself to "Terminator."
Dance Flick
- Two words: bad decision. Many abhor this type of film (see
Epic Movie
,
Date Movie
,
Scary Movie
, etc.), but they make money. This one, however, will not. Teens, tweens, and the possible undergrads who will see this film will laugh but ultimately not know why. The film heavily spoofs two specific, older films,
Save The Last Dance
and
Flashdance
. Spoofing films that your demographic is not familiar with is never a good idea.
May 29:
Drag Me To Hell
- new
Sam Raimi
horror flick about a loan officer who makes the bad decision to allow an old woman to be evicted. Moral of the story: do not toss older generations out on their asses- especially older women. Clearly Christine (
Alison Lohman
) did not watch
Beauty and the Beast
.
Up
- Pixar +
Ed Asner
as a crotchety old man +
Christopher Plummer
= Obvious success. This film will play extremely well for the clichéd "people of all ages" demographic. After
Wall-E
we completely trust Pixar and will continue to fund their cause one theater ticket at a time.
Not Forgotten
- This is another film related to the horrors of the America/Mexico borderlines. Oh, border anxiety, still relevant, still a useful horror genre tool.
Click on the next page for June films...