Starpulse Writer Rewatches Every 'Star Trek' Film, Picks Favorites - What Are Yours?

As a child, I was first introduced to the original "
Star Trek
" television series and movies by my babysitter, who watched them on TV with me. I've always been a huge fan of all things sci-fi, so I quickly became a follower of Captain Kirk and the crew of the Enterprise.
After that, it didn't take me long to become engrossed in "
Star Trek: The Next Generation
," which was still airing new episodes at the time. With the thrill of new episodes, I became a bigger aficionado of Captain Picard and his crew than I was of Kirk and the original cast.
While I've never considered myself a "Trekkie" in the true sense of the term, the "Star Trek" franchise has always been special to me because it reminds me of my childhood.
Since I first heard about the new "
Star Trek
" movie, I have been excited to see the series from a fresh perspective. Although the new film is a complete reinterpretation, and does not require seeing the previous films or television series, I felt it was my duty to prepare for the new one by sitting down and re-watching the other ten movies.
If you see the new "Star Trek" and are intrigued to see the other films, or if you are a casual fan already, I've assembled a list of my top five "Star Trek" movies. I've watched them all so that you don't have to, and I'll tell you why each one made it on my list of favorites.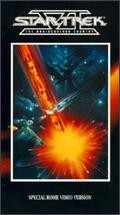 After the outlandish plot of "
Star Trek V
," which essentially has Kirk fighting God, "Star Trek VI" is a little more grounded. The characters deal with real issues, like racism and aging.
Faced with the prospect of peace with the Klingons after fighting them for so long, the crew of the Enterprise must confront their own prejudices against the aliens, especially Kirk whose son was killed by Klingons in "Star Trek III."
As the last film to feature the entire original cast of "Star Trek," this movie is a very appropriate send off to the crew of the Enterprise. Captain Kirk and his crew grapple with becoming older and reaching the end of their careers. At the end of the movie they know their time with Starfleet is up, but as they deny orders to return to base one last time, we can tell they are thankful for having each other and the adventures they shared along the way.