Starpulse Top 10 of 2006: #1. Racism In Tinseltown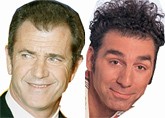 A lot of strange, crazy and even predictable things happened in the celebrity world during 2006; however, no one was prepared for the racial tensions and outbursts from well-known and respected actor/director
Mel Gibson
and
Seinfeld
star
Michael Richards
.
No stranger to debatable material, Mel began the year shooting his
latest controversial epic
,
Apocalypto
, about the end days of the Mayan civilization. And in May he
pointed his finger at President Bush
, comparing the U.S. leader to the barbaric Mayans portrayed in his new film.
But it was Mel's barbaric ways that would steal the headlines for the rest of the year when he was
arrested for drunk driving
in Malibu, California, on July 28.
Upon field sobriety tests and registering a 0.12 percent blood-alcohol content on the breathalyzer, Gibson was booked and had some
not so nice things to say
to his arresting officer. Despite witnesses from the bar he was at prior to his arrest who said he was
"friendly" but not "stumbling drunk,"
the actor/director went on an anti-Semitic rant, directing a slew of slurs at his arresting officers. In a statement, Gibson said, "I acted like a person completely out of control when I was arrested and said things that I do not believe to be true and which are despicable.
"The arresting officer was just doing his job and I feel fortunate that I was apprehended before I caused injury to any other person. I disgraced myself and my family with my behaviour and for that I am truly sorry. I have battled with the disease of alcoholism for all of my adult life and profoundly regret my horrific relapse."

Michael Richards
, most memorably known as the engimatic and hilarious "Kramer" on 90s hit sitcom Seinfeld, has also drawn unwanted attention on the racist front.
In November, Richards-- now doing stand-up comedy shows in his free time-- was heckled by a couple of African-American audience members whom he then blasted with a tirade of racist comments at the Laugh Factory comedy club. Richards' rant went further and further with the racist name calling, all of which was caught on camera, until the two men left the club.
Coincedentally, Richards' friend and former co-star Jerry Seinfeld was a scheduled guest on "
The Late Show With David Letterman
" following the incident, and Richards
publicly apologized for his actions via satellite
. He said, "For me to be at a comedy club and flip out and say this crap, I'm deeply, deeply sorry. I'm not a racist. That's what's so insane about this."
During the broadcast, some audience members were
laughing at his remarks
, to which Seinfeld responded, "Stop laughing. It's not funny." Richards could also hear the laughing during his apology and stated that he was "busted up" over the incident and wasn't sure if [The Late Show] was the proper place for his apology.
Richards has also apologized to
Civil Rights Leaders
, including Revs. Jesse Jackson and Al Sharpton, and guested on various minority radio shows to atone for his actions. The Seinfeld star has also been asked to apologize to the Laugh Factory audience members personally and to
donate $1 million to charity
for each racial slur. He has since also been banned by the comedy club.
In the aftermath, both Gibson and Richards have received a fair share of both support and threats. After numerous public
apologies
to civic groups and communities, many famous friends and colleagues came to Gibson's side, including
Jodie Foster
,
Harry Shearer
,
Patrick Swayze
,
M. Night Shyamalan
,
Sigourney Weaver
,
Brad Garrett
, and
Pink
; and comedians
Tom Green
,
Robin Williams
and Jerry Seinfeld, along with Gibson himself, have supported Richards through his trials and tribulations.
However, there are still those unwilling to forgive and forget, like comedienne
Joan Rivers
, who has called for boycotts of Gibson's interviews;
Rob Reiner
, who is convinced he is an anti-Semite; and
Denis Leary
, who has parodied Gibson in song. There is also talk that the
Braveheart
director's planned
Holocaust miniseries could be in jeopardy
if television network ABC decides to pull the plug on the project due to Gibson's actions.
As for Richards,
Jamie Foxx has threatened
physical harm should the two ever meet. In another not-so-funny moment, comedian
Andy Dick
recently jumped up on stage during a comedy act and tried to make light of the situation Richards was in, although his joke backfired and prompted Dick to release an apology in the
Los Angeles Times
.
While Mel Gibson has begun the healing process through moving forward with projects such as Apocalypto, Richards still faces more of an uphill battle to earn back his respect as there are no current projects he is involved in to shift the focus. The December 8 release of Apocalypto showed that many fans are willing to forgive and forget Gibson, turning the film into a box-office success with a
number-one debut
with a $14.2 million opening.
Since the incidents, Gibson has come to recognize his faults and is making efforts to deal with them, with the help of a
rehab center
; and Richards is
currently seeking psychiatric counseling
to deal with his anger. Only time will tell when the wounds that the two actors have inflicted with their words will heal and how their careers will ultimately pan out in the wake of the events. But it is for these alarming and ugly events that Starpulse has named these bouts with racism the most important celebrity moments of 2006.