Starpulse Q&A With Chris Hardwick: From Singled Out To Science Lab

You may recognize comedian
Chris Hardwick
from his days as the host of MTV's
Singled Out
or the popular syndicated aquatic courtship program
Ship Mates
. Now Chris finds himself hosting a more cerebral type of show on PBS's Wired Science and also providing the voice of Otis on Nickelodeon's
Back to the Barnyard
.
Starpulse spoke with the potential
Bill Nye
for the new generation about his musical comedy duo
Hard N Phirm
, which taped their first Comedy Central Presents Special this year, the deal behind Otis's udders, and the life he might have lived had MTV not plucked him out of college.
MTV recently announced comedian Ryan Stout as the host of the new Singled Out. Did you do any sort of passing of the flame ceremony?
I think I may have been the first person Ryan called when he found out and I thought he was an excellent choice. There was a very formal black tie ceremony in which the Singled Out flame which had been kept alight for the last ten years in a hot room under the Kilauea Volcano was used to burn a sacred crest onto Ryan's shoulder. Unfortunately, the show didn't get picked up, leaving Ryan meaninglessly scarred for life.
When you joined Singled Out, it interrupted your college career. Did you ever think of going back and getting your degree?
It interrupted the last few months of it, yes. But I was a philosophy major so as Philosophy taught me to question the value of everything, so did I question the value of a philosophy degree.
Prior to making your move to TV, what was your plan with college?
I was hoping to finish school, move back East and get a job at a smelting mill. I would marry the first girl I could find and begin producing offspring. After a series of ups and downs with booze and painkillers, I would file for divorce in my late twenties, claiming reverse spousal abuse. My youngest child, Nathan, and I would be close but my eldest, Rita, would remain at arm's length. In my early thirties I would start a blog about galvanized trivets that would peak at twenty-three hits a day, but a chance viewing by a schoolteacher in Burlington, Vermont would lead to my second marriage and a resigned complacency living as a New England househusband. TV ruined all of that.
Did you find your philosophy training useful in life and in your career?
Steve Martin
said that Philosophy is good for comedy because it screws up your thinking just enough, and I agree with that. Being forced to see life's metadata is good training for looking for interesting angles on a topic.
Do you think it's possible for a show to do for Philosophy what Wired Science does for science?
No. Real philosophy is like trying to read an alarm system installation manual in Korean.
How'd you get involved with Wired Science?
No one believes me but in late July I decided that I really wanted to work on a science show. Phirman and I write so many sciencey songs for
Hard N Phirm
that required a lot of homework and I really enjoyed that. Honestly, about a week later I was trawling though the breakdowns (which I do sometimes because I'm not convinced that my agents think about what I want as often as I do) and stumbled across the words, "Wired," "PBS," and "science." I literally evacuated the contents of my bowels. After a shower, I called my manager and asked him to beg them to let me go in and audition for it. Somehow it all worked out.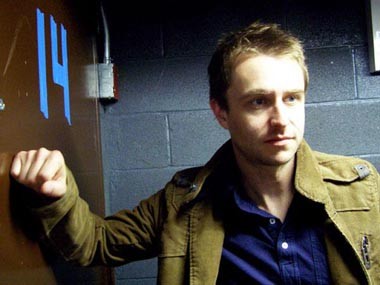 How does it feel to be this generation's Bill Nye?
Ooooh! Am I?? That would be something. I don't know if that works really because my last name doesn't rhyme with anything that PBS could publicize.
What has been the highlight of your experience thus far?
This is the first show where they didn't tell me to "dumb it down for America." When I hosted "boat date" they wouldn't let me reference Mussolini because they thought no one would know who that was. I disagreed but their strong-arming of me to not make the joke would have made Mussolini proud.
The "What's Inside" segments have been a blast. Aside from the chemical names, they pretty much let me say whatever I want—although, I talked
Rainn Wilson
into coming on and doing one with me and I'm sure most of the things we were referencing will not be used. You'd think PBS would WANT you to make jokes about Angel Dust, but you'd be wrong. Also, I got to go to San Diego and interview DNA maverick Craig Venter on his five-million dollar science yacht. That was spectacular. Oh, and they let me start writing for Wired Magazine.
I know! I know! You only asked for one highlight. I'm a braggart and a jerk.
Could you use your knowledge of science to explain why it is that Otis, the male cow for whom you provide the voice for on Back at the Barnyard, has udders, a trait that only female cows possess?
I can use my extensive science knowledge to explain that while male cows don't possess udders in real life, neither do they walk upright or speak.
So, what is the Country Public Broadcasting System?
CPBS
was just an excuse for Mike Phirman and I to write country songs about science, a topic generally not covered in the broad spectrum of the country music genre. We have the first one up on
SuperDeluxe.com
right now and hope to have the next three out within a couple of months. When we started this I had no inkling that I would end up working for actual PBS.
Has your involvement in Wired given you extra insight into the arena of edutainment that you're able to use on CPBS?
Yes, now I know how and where to obtain deadly chemicals that we can use in our videos (unitednuclear.com).
Although we were treated to your appearance on Comedy Central's Comedy Death Ray compilation, we have yet to have a full length Chris Hardwick comedy album. With all of these projects and the recent taping of your musical comedy project Hard 'N Phirm's Comedy Central Presents special, will there be time for a such an album?
Definitely. I've been doing other stuff for so long that I need to scrap all of the old stand-up I've been nursing off for what feels like forever. It's just a question of building up an hour of new material that I like and pressing, "Record."
Did the recent release of Radiohead's In Rainbows generate any new interest in Rodeohead, your blue-grass Radiohead Medley?
Good question! We put it up on our site again for free because Comedy Central Records is going to distribute Horses and Grasses digitally but they didn't want to bother with getting the rights to "Rodeohead" so we just decided
to give it away again
. If Radiohead's music is good enough for Radiohead to give away, it's good enough for us to give away. Besides, we already gave it away a million times before, so really, we were giving away their music long before they were. YOU'RE WELCOME, Thom.
What are some other projects that you're currently involved in or contemplating? Should we expect a new Hard N Phirm album in the next year or so?
I hope so! We have about eight or nine new songs in the old hopper at the moment. Also, we've been talking to
AST Records
about putting out all of the songs we wrote for one performance during the early days of Comedy Death-Ray. It would only appeal to fifty people, but it's fifty people that we love that helped make that show what it is today. There are also some other things that I am reluctant to mention in case they don't happen. If you're a real science geek, though, I just started blogging on the no-screwing-around Wired Science show
Wired Science show blog
- it's got actual scientists on it! And I am the resident clown.
Interview by
Ben Kharakh
Starpulse.com contributing writer