Starpulse Exclusive: Get An Inside Look At 'Cane' With Paola Turbay

A famous face in Latin America,
Paola Turbay
is making an impact in the states this season by playing
Jimmy Smit's
wife on the CBS drama
Cane
. The show centers on the rivalries and power struggles of a large Cuban-American family that owns a rum and sugar empire in South Florida. Starpulse had the pleasure of speaking with Turbay about making the series.
How do you like working on the show so far?
I love it. It's got a great cast, scriptwriting, and production is impeccable. I'm really proud of it. I've been really careful choosing my roles, because sometimes they don't always work out. You take this huge cast and production on this amazing network CBS, and put it all together, it is definitely so fulfilling.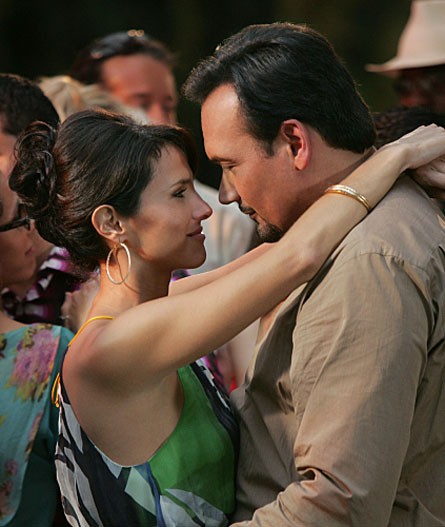 How fun that you get to work with Jimmy Smits!
Can you ask for more? All my work had been done through Colombia and then this year the agency said it's time to move from Miami (where I lived). When you move out here (LA), your perception of the people changes. This was my first audition and I was the first to try for the part. I went to my call-back and Jimmy was there. He had already signed as a producer and the lead. Then you hear names like
Hector Elizondo
and
Rita Moreno
. No other project could have been more interesting for me.
I think you made a good choice. Perhaps "Cane" will run long enough to eventually make you its matriarch.
You mean in about 40 years? (laughs) When I get to Rita's age, I hope I will be as beautiful as she is. When people ask me, I tell them when I grow up I want to be like Rita Moreno. She is so wonderful, and she's 75 years old. Her body is still amazing and sexy. Hector is in his 70s, too, and any 30-year-old would be ashamed to be next to him because he is in such good shape. He trains every single day. They are both amazing.
We hope that Pancho (Elizondo) won't be leaving the show too quickly.
I hope not, too. At the beginning, the writers have a whole storyline, but depending on the audience, then they decide what has to happen. His role is so important; he's a factor in the whole family. It always happens (on TV.) Doctors give you three months and it takes you 30 years to die.
With the people I work with now, it's completely different than any other production we've been in, like when we have family scenes at the table. Everybody's talking and we're having fun when in other productions it might be more serious, proper, and professional.
You don't have any egos to contend with?
No, we don't. I think that's due to Jimmy and the other producers. We don't have "stars" in this environment. When the star is a diva or has an a bad attitude, you get this bad energy. But when it's a nice, sweet, humble person, everybody synchronizes.
So Nestor and Jimmy really get along off camera?
Yes. People say it's unbelievable, but all my productions have been like this. If it's not good, somebody's in the wrong place. We do really enjoy working with each other and know that it's for the good of the show. We're just like a family. When we have special guests, they beg the producers to let them come back because it's enjoyable to work here.
Tel me about Club Duque.
We used to have a little nightclub set and now that it's so successful, that they built a club right on the lot. We have huge artists coming in like
Alicia Keys
,
Nicole Scherzinger
of the
Pussycat Dolls
, and
Maroon Five
. It's a nice musical platform and people like the music in the show. We pull in all kinds of different audiences with it, like younger people.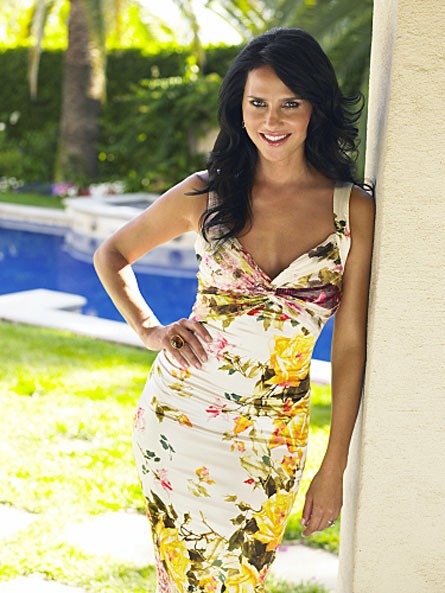 How much will you be shooting in Miami?
We shoot the exteriors in Miami, but I haven't had a chance to go there yet. All my scenes have been on set or on location here where some of it looks like Miami in LA. Sometimes we go to Long Beach. The sugar cane fields that they originally used in Palm Beach, they have now found in California in El Centro.
Do you miss Colombia or Miami? That's quite a change.
When I was in Miami, it was a three-hour flight to Colombia and Miami was so "Colombianized." LA is a huge change. It's a lot more "American." It's far away from home, but here the people are so nice, the work is so enriching, so you get other good things. Even my husband and my kids are having fun here.
Your English is impeccable. Have you been bi-lingual since birth?
The first language I learned was English. I was born in Houston. My parents were Colombian and went to Houston to get their degrees, and we stayed there for 10 years. That's why I don't have an accent. Then I started speaking Spanish when I was 11, so I worked in it. When I speak in English now I feel sometimes like I have a lack of vocabulary. When my brothers hear me speak Spanish in interviews, they think I am another person with my "Spanglish."
I think that's one of the best aspects about the show, that it sometimes includes Spanish.
We put a little in there, but not too much. Just enough to give it that spicy flavor. The language is so beautiful and so rich.
Do you think that people will compare "Cane" to "The Sopranos?"
People started comparing it already. It's horrible to compare, but when it is done with a show as good as that, it's a complement. It's a family drama, like "The Sopranos," and it has it's edgy, dark side, but it's different. It's legal.
Not quite all of it
.
When it comes down to what are you willing to do to keep your family safe, you cross that border. So hopefully, we are as good as the Sopranos.
My only complaint about the show so far is that your character is not very strong.
That was for the pilot. We're a huge family. There are so many story lines and the characters have to develop. I started off as Alex Vegas' wife. But then in one episode Isabel begins to show her point of view. She was totally against what Alex was doing for the company. He wants to mechanize, but we each get a vote. I tried to convince my younger brother but in the end, I lost.
Also in that episode, Pancho says that in case of a conflict, Amalia (his wife) has the last word. If she dies, Isabel has the last word. So that's where women start to be important in the family business.
Isabel is going to discover that she has been living her life for her family and that it's time for her to do her own thing, have her own space. She got married when she was 17, so she didn't do it then. She'll do it later.
Good. Feminists everywhere will thank you.
(laughs)
I'm not sure this type of show would have worked 20 years ago.
Of course, but this country has been built on immigration. Now there are so many mixtures that the "typical" American family began with ancestors that came from other countries.
I think "Cane" has a really positive image.
Latinos were often portrayed as people who were uneducated or illegal immigrants or mobsters. Now we have lawyer roles and business people as well as the hardworking people. It's nice to be part of a family that is powerful and well-educated, part of a higher economical group with the rum business and the sugar cane business in the United States.
How close is Paola to Isabel?
We do have some things in common. I've been told that as soon as they saw me they said, "This is Isabel." Writers, producers, and directors always have a preconception of their character and once they see who it is, they say "If she can act as well, then that's it."
We are both very family oriented. Being a partner with my husband is important for me, too. The only real difference is that she has dedicated her life to her family, while I have had a chance to have my professional life as well. When my kids see my performance they know that perhaps I would be "stronger."
How many episodes have you shot so far and how many will you have for the season?
We're working on the tenth. We got 13, then they ordered an extra four in case of the (writer's) strike. We're in a terrible spot, up against "Law and Order" and "Boston Legal." But I think no matter what the numbers are right now, they are thinking of us as a long term investment.
It always takes time for a new show to develop an audience. I've also seen you in a couple of commercials.
I began doing them when I was 14. They even called me before, when I was 11 or 12, but my father wouldn't let me do it. Then they called me for this Pepsi commercial and I begged to do it. That's when I really started getting involved in production, camera work and acting. Even in school, I was always into drama, choreography, piano, the choir. And I am the "
Brooke Shields
" for Colgate in Colombia and Ecuador.
Also, I hosted the Colombian
Dancing with the Stars
. I was invited to apply for this one but I didn't want to accept any project so that I would be available for "Cane" in January. The one in Colombia lasted 4 seasons, one shot right after the other. It was based on the Mexican version which was beautiful and socially oriented. It was called "Dancing For a Dream."
You have stars who are the dreamers and the dreams are like a kid who has to walk a long ways to school or needs a kidney transplant. So the participants work with organizations or foundations. Then people would call in to vote on their favorites and the money would be donated for the cause. I believe that they will be producing it here.
You must have a large fan base by now.
Yes, I am contacted by people as far away as Turkey and Germany. It's crazy. My e-mail has gone up about 400%. But that's not why I do it. I think you have to do what fulfills you and what makes you happy. I think that people who get into this business just for fame will never do well. You have to do it for the passion.
Do you want to get further into the other side of the camera?
I have been. I have been directing, writing, and editing, and I love it. Even if you don't work in those aspects, I think you should stop and see what others do to learn the importance of post-production. Acting is a huge percentage of the work, but scenes can be enriched with small touches everywhere, like sound and lighting. You can watch the dailies and say , "These are good," but when you see it all put together it makes it complete. It makes you really value what the crew does.
Have you yet made the late-night talk show circuit?
I will be. I gotten calls from
Jay Leno
,
Craig Ferguson
, and
David Letterman
, so I should be on in the next few weeks.
One last question, if you can do so without giving too much away. Can you give us a hint at what will be happening in the next few weeks?
The last show (October 23) was such a thriller. Next week is a good one for me. Isabel confronts Alex about the murder because she needs to know what is going on. Then the pressure starts getting to her.
Uh-oh. We will tune in for sure. Do you want to make some movies eventually?
Of course. That's what I will be doing during hiatus, which is March through July. I am already looking through several scripts.
Interview by
Sheila Franklin
Starpulse.com contributing writer