Starpulse Celebrity Guest Blogger: Kate Voegele, Part 2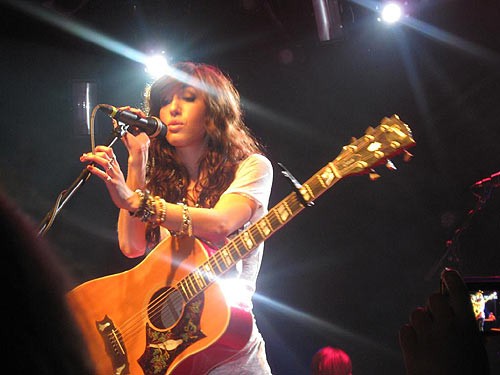 Two weeks ago Starpulse welcomed our first-ever celebrity guest blogger,
Kate Voegele
, who has been keeping us up to date with everything that's going on in her busy 'dual life' as both a singer and an actress. Kate recently released her second album,
A Fine Mess
, which contains her recent hit single "99 Times" (watch the video below). She can also been seen on the CW's hit series
One Tree Hill
as singer/songwriter Mia.
Here's Part 2 of Kate's Blog:
Hey Starpulse! Kate Voegele here. I'm currently in Wilmington, NC getting ready to shoot some episodes for season 7 of "One Tree Hill." 2009 has been a really fun year for me so far and everything has been a bit chaotic but in the very best way! I wanted to share a little bit of what I've been up to with you guys...

In January, I made my brand new record, "A Fine Mess" in Los Angeles with the unbelievably talented Mike Elizondo. I had the time of my life figuring out which songs would fit best for this album and messing around with new and old ideas to shape it. I also got to explore Westlake Village, CA quite a bit because Mike's studio is located there. I would recommend that anyone who ends up out that way visit 'Bad Ass Coffee' (yes it's really called that, and yes it's totally bad ass) because I pretty much lived there when I wasn't recording in the studio! So making this record was an incredible experience and once I finished up the recording process, I headed to Wilmington to finish shooting season 6 of "One Tree Hill." I stayed out at the beach and had so much fun basically living there all of March and spending time with friends out on the east coast. Once April rolled around it was time to get out and tour to support the new album!

Our spring tour was called the "Lift Me Up" tour and it couldn't have gone any better. I had a full band out on the road with me in our tour bus, and we had some pretty awesome adventures together. The shows themselves went so well and were so much fun, but it was mainly things like a day off in Salina, Kansas that we spent at the local bowling alley and in the 24-hour hotel pool that really highlighted the tour. I still have bruises on my shins from a band-wide pool game of "Voegeletoss"...appropriately named for the object of the game which was to see which band member could toss me the highest in the pool.

That's all I have for now, stay posted to katevoegele.com to find out more about what's going on with me (and see some pretty cool pictures and music videos!)

xoxo
Kate Voegele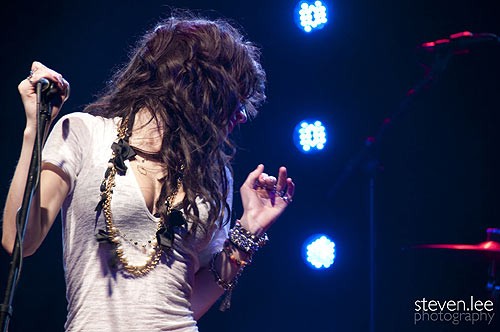 Image © Steven Lee Photography
Watch the video for Kate's "99 Times":
br />