Starpulse And Oscilloscope Laboratories Proudly Present The Los Angeles Fangirl Screening Of 'Bellflower'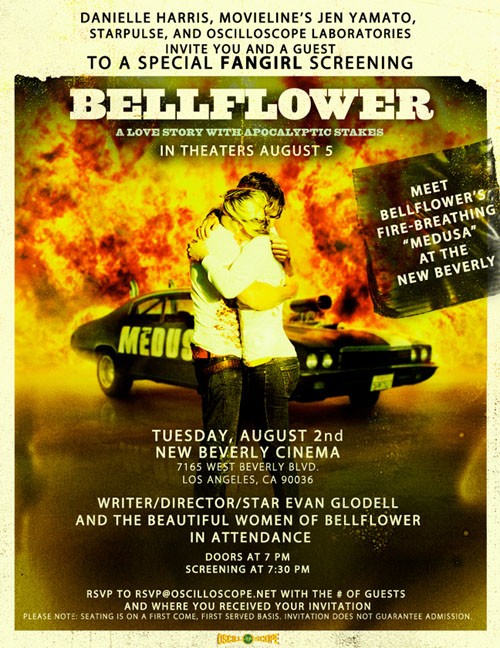 Nothing says a great night out like a five-star flick.  That's why we here at Starpulse are teaming up with Oscilloscope Laboratories, as well as Danielle Harris of "Halloween" and "Hatchet 2" fame and Movieline's Jen Yamato to proudly present the official Los Angeles special 'Fangirl' screening of the amazingly original Sundance hit "Bellflower." 
The movie was already seen by our own cinema-crazed Jason "Fanboy" Coleman and he assures us that "Bellflower" is phenomenal five-star filmmaking not to be missed!  Check out the description below and official invite above!
 Description:
Best friends Woodrow and Aiden spend all of their free time building MAD MAX-inspired flamethrowers and muscle cars in preparation for a global apocalypse.  But when Woodrow meets a charismatic young woman and falls hard in love, he and Aiden quickly integrate into a new group of friends, setting off on a journey of love and hate, betrayal, infidelity, and extreme violence more devastating and fiery than any of their apocalyptic fantasies.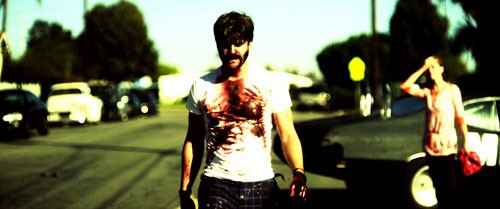 So simply RSVP to RSVP@Oscilloscope.net with the # of guests and where you received your invite (tell 'em Starpulse sent ya!) and you're good to go!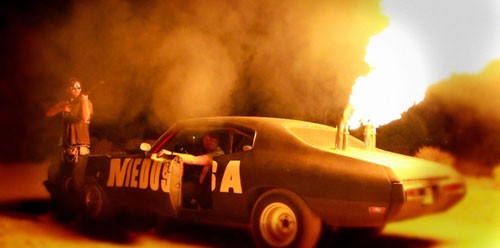 Stay tuned to Starpulse.com for much more cool "Bellflower" coverage - viva la "Bellflower!"