'Star Wars' Prequel Stars Jake Lloyd & Daniel Logan Teaming Up For Music Video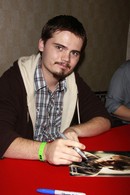 The child star who played Anakin Skywalker in Star Wars: Episode I - The Phantom Menace is teaming up with the man behind Boba Fett for a new music video.

Jake Lloyd, now a 22-year-old filmmaker, has been commissioned to create a promo for singer Mallory Low's new song and Star Wars: Episode II - Attack of the Clones actor Daniel Logan will be his star.

Lloyd, who was eight when he played Anakin on the big screen, is also directing a new documentary about Tibetan refugees in India, according to Entertainment Weekly magazine.