'Star Wars' Makes Instagram Debut With Darth Vader Selfie (And Princess Leias In Bikinis!)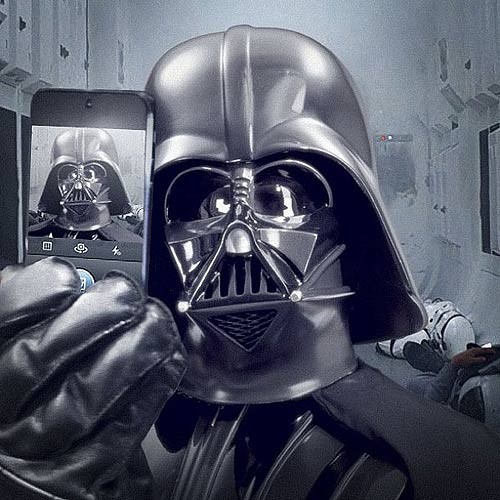 A long time agoin a galaxy far, far away has finally caught up with the 21st century: Star Wars has officially joined Instagram.

The movie franchise made its official debut on the photo-sharing website on Tuesday, kicking things off with a Darth Vader selfie. The Sith Lord snapped himself standing amidst the carnage in the hallway of the rebel cruiser that he captured in the very first scene of the first "Star Wars" film in 1977.

"Another day at the office," the caption read.

It wouldn't be surprising if the new social networking page became a way for director J.J. Abrams and his crew to share updates and exclusive behind-the-scenes images leading up to the 2015 release of Star Wars: Episode VII, but for now the page is generating some early buzz for the forthcoming sequel with some nostalgic photos.

In addition to Vader's selfie, a handful of other photos have been uploaded, including an image of artist Colin Cantwell's Star Destroyer concept model from "A New Hope," an image of Luke Skywalker (Mark Hamill) and Darth Vader (David Prowse) during their lightsaber battle from "The Empire Strikes Back," and the obligatory Slave Leia photo -- this one featuring a group of several sexy women dressed in the gold bikini that Carrie Fisher in "Return of the Jedi" from the 2010 San Diego Comic Con.

The image features America's Next Top Model winner and self-proclaimed geek Adrianne Curry (front row, far right) and D-list celeb Phoebe Price (middle row, left).