'Star Wars In Concert' Gives Anthony Daniels A New Love For The Films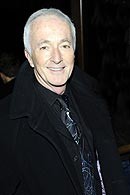 Star Wars icon Anthony Daniels has only learned to appreciate the magic of the sci-fi blockbuster in the past two years - by narrating the touring Star Wars in Concert stage spectacular.

The British actor, who has played android C-3PO in all the Star Wars films, admits he was never a true fan of the sci-fi franchise until he stood on the world's stages and watched costumed fans marvel in the music from the movies.

Daniels credits the shows with giving him a new perspective on the films which turned him into a cult star.

He tells the Los Angeles Times, "There's nothing quite like it; it simply never goes away. It comes back again and again and again in new ways.

"The fans have a passion for it, but I have to say that, for me, I never really understood the spell it cast on people. I didn't get it - it was a mystery to me - but now I do. And it's because of this show."

And the 65 year old, who narrated the Star Wars story over John Williams' score at the Hollywood Bowl on Friday and Saturday night, freely admits he never thought the first Star Wars film would be a hit, and felt sure he'd made a terrible mistake signing on to play a robot.

He adds, "I didn't even want to be in it. This character of C-3PO, sometimes I'm not sure where he came from - he was very different in the first script... But I'm very glad he arrived and ended up in my pocket."
During Saturday night's show at the Hollywood Bowl, legendary composer John Williams surprised the crowd and conducted the show's encore, "The Imperial March (Darth Vader's Theme)."