'Star Wars: Episode VII' Video Shows Imperial Forces Gathering At Frankfurt Airport In Germany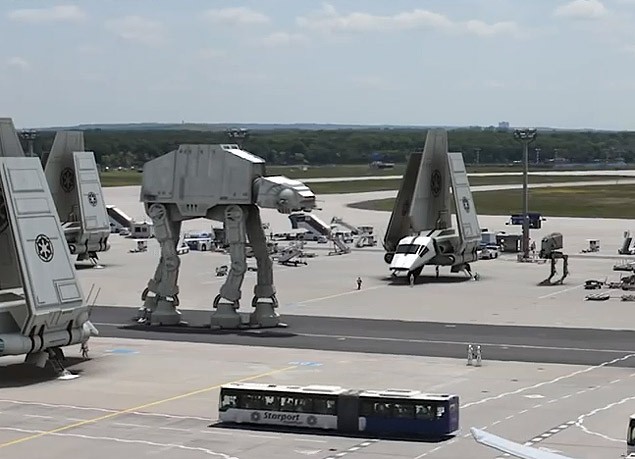 The set of the forthcoming Star Wars: Episode VII may be in a state of constant lockdown and secrecy, but that won't stop even the best of the movie set spies and inside agents from getting in for a look.

While J.J. Abrams and the cast of the sequel are hard at work filming, one spy did happen to infiltrate the Imperial base in Frankfurt, Germany.

A new video posted online shows that the Empire is alive and well and gathering their forces at the Imperial Starport (aka Frankfurt Airport).

Watch as an imperial shuttle is spotted coming in for a landing, flanked by two TIE fighters. When the tarmac is seen, it's teeming with life, from AT-AT walkers and lots of shuttle activity, to the giant parked Star Destroyer off in the distance.

There's even a shield generator on the horizon, presumably protecting the Death Star that's apparently being built in Earth's orbit.

The footage was made (presumably) by YouTuber Frank Wunderlich, whose description reads, "Looks like the Story of Star Wars plays on Earth too in the next Episode. I took these pictures on my Flight back from the States to Germany at the Frankfurt Airport.

"Seems like the biggest german airport plays a key role as an imperial starport in the new episode -- there have just been imperial forces at the scene. Maybe the Rebelboys hide in Berlin..."

Filmmaker Kevin Smith recently got a behind-the-scenes tour of the actual Pinewood Studios set in London last week, where he was given the chance to step aboard Han Solo's ship, the Millennium Falcon.

Smith says that the set appeared more real and lacked a lot of the green screens used to produce the prequel trilogy.

"If [Abrams] captures just 10 percent of the feeling that I had by putting my foot in the deck of the ship... it will be the top-grossing film of all time."

This is really funny also...