'Star Wars Episode VII' Trailer Brings In Buzz, Woody & 'The Avengers'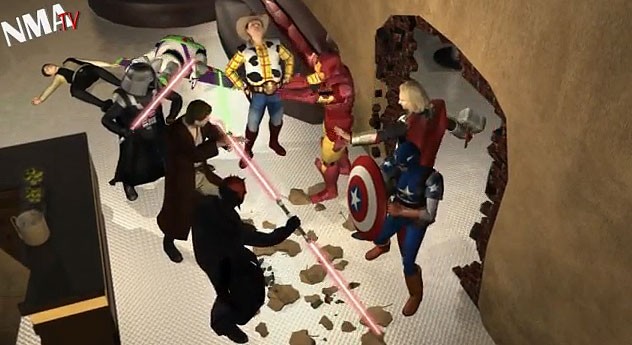 Taiwan's Next Media Animation (NMA) studios released another fantastic video last week, this one called "Star Wars Episode 7 Official Trailer."

The crazy video studio, based in Taipei, Taiwan, brings international news to a whole new level by not only reporting on all the latest stories, but providing some hilarious visuals as well through computer animation. Who needs cute girls in front of green screens?

The Star Wars video starts with a guy smoking a cigar dressed as Mickey Mouse sitting with George Lucas and a girl dressed as slave Princess Leia on a couch at a stripclub, while a woman dressed as Minnie Mouse does a pole dance.

If that wasn't enough, the movie mogul is then presented with a giant check for four billion dollars by the Mouse, which for a second he thinks might not be legitimate. Cue Return of the Jedi's Mon Calamari leader Admiral Akbar telling Lucas, "It's a trap!"

Lucas dismisses the fleeting thought and takes off with his payday after turning into the film franchise's Emperor. He then tells a few familiar looking Jedi Knights about the deal, and they're not too thrilled with it.

Next thing we see is several Star Wars characters dancing around to the Star Wars Cantina theme and celebrating with Toy Story's Woody and Buzz Lightyear, whose backpack bumps Han Solo on the dance floor. The move angers the smuggler, who draws his blaster and takes out Buzz (he shoots first, too).

Woody calls in some reinforcements: Avengers Iron Man, Captain America and Thor; and an all-out brawl occurs.

Cut to an obese couple getting Star Wars and Disney toys in their Happy Meals at McDonalds as Lucas watches from the corner.

Last thing we see is Lucas and the Mouse man on the bridge of a Star Destroyer overlooking Earth.

Last week Disney and Lucas announced the deal, in which Lucas will receive $4.05 Billion for the rights to Lucasfilm and all of its holdings, including the Star Wars franchise.

Lucas plans on using all the money (he'll get half of it in Disney stock) for philanthrophy, mostly for his George Lucas Educational Foundation.

"For 41 years, the majority of my time and money has been put into the company," Lucas said in a statement. "As I start a new chapter in my life, it is gratifying that I have the opportunity to devote more time and resources to philanthropy."

Both parties also announced that "Star Wars Episode VII" is in the works and is targeted for a 2015 release. All six of the prior Star Wars films were released in May, so we're guessing Disney won't deviate from that tradition.

Disney also owns Pixar animation and Marvel.
Funny, this trailer is already better than Episode I, II and III.

Check out NMA's YouTube page for more crazy videos...