'Star Trek Scene It?' Bursts Into The Galaxy (Win It!)

Screenlife Games, creator of Scene It?, the number one DVD game, recently announced the release of the "Scene It?
Star Trek
Deluxe Edition". Featuring trivia questions, on-screen puzzlers and authentic clips from your favorite live-action TV series and movies, the game will challenge and entertain everyone from casual "Star Trek" viewers to the most die-hard fan.
"'Star Trek' is one of the biggest phenomena in pop-culture history, and a Scene It? game that fans have consistently been requesting. We're thrilled with how well it has all come together," said Dave Hoffman, President of Screenlife Games. "Spanning all the greatest 'Star Trek' moments since the revolution started in 1966, Scene It? 'Star Trek' is the perfect combination of nostalgia and innovative game technology, and just a great way to for people to come together and have fun."
Players boldly go where no one has gone before, as they race around the Flextime® board and test their knowledge of everything from Troublesome Tribbles to
Borg Queen
factoids. For example, "In the motion picture
The Final Frontier
, Captain Kirk (
William Shatner
) and Dr. McCoy (
DeForest Kelley
) attempt to teach what campfire song to Captain Spock (
Leonard Nimoy
?¹" "Or, in the motion picture
The Undiscovered Country
, what playwright does General Chang (
Christopher Plummer
) incessantly quote? ²" (
see answers below!
). Ideal for parties and gatherings with friends, relatives or favorite Klingons, "Scene It? Star Trek Deluxe Edition" features Screenlife Games' patented Optreve® randomization technology, which ensures fresh content after multiple plays, and allows the games to play like no other. "Scene It? Star Trek Deluxe Edition" is a licensed product from CBS Consumer Products.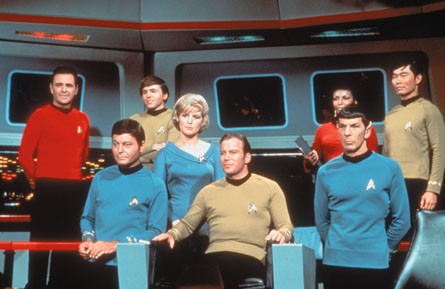 Image © Paramount Pictures
For the first time ever, Screenlife Games has created two signature embossed Deluxe Edition collector's tins for "Scene It? Star Trek", including a Captains box, and a limited edition Ships version. All Scene It? Deluxe Edition games contain more content than standard editions and all feature signature embossed collector's tins. The perfect gift for yourself or anyone you know, for any occasion, the games can be found online and at fine retailers around the world. Please visit www.screenlifegames.com for a full list of Scene It? Deluxe Edition games and retailers.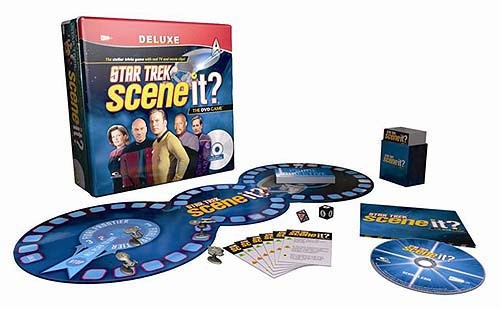 Screenlife Games is a premier game company that is bringing a new dimension to the way the world has fun. Screenlife Games is the creator and world's leading developer of DVD games, including Scene It?, the number-one selling DVD game worldwide. A leader in entertainment licensing, Screenlife Games has struck thousands of deals with major Hollywood studios, sports leagues and recording labels, as well as actors, athletes and musicians. Key partners including Microsoft, NAMCO and Comcast, create custom Scene It? content and games across multiple platforms including the Xbox 360, mobile phones and video on demand. Scene It? games feature patented Optreve® DVD Enhancement Technology and are available in twelve languages, across 29 countries, and in more than 50,000 retail locations. Screenlife is a part of Paramount Digital Entertainment, a division of Paramount Pictures Corporation - a unit of Viacom. For more information about Scene It? and other Screenlife Games games, visit www.screenlifegames.com or call (866) DVD-GAME.
Answers: 1. "Row, Row, Row Your Boat"; 2. William Shakespeare