Star-Studded Benefit CD for Hurricane Relief To Drop Nov. 22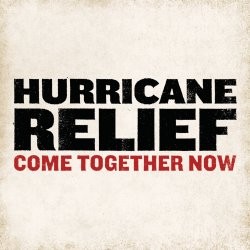 Responding to the overwhelming outpouring of support from musicians, writers and producers, EMI Group, SONY BMG, Universal Music Group, Warner Music Group and Concord Music Group along with the Hip-Hop Summit Action Network
and the Recording Industry Association of America (RIAA) today announced the addition of new artists and songs to complete the double CD multi-artist benefit album
Hurricane Relief: Come Together Now
. The collection will feature new recordings and classic cuts from more than 80 artists and 35 songs, spanning a variety of generations and genres, and will be released November 22.
All proceeds
will aid the relief efforts for the Gulf Coast victims devastated by recent hurricanes Katrina and Rita.
An accomplished cast of new artists has joined the already stellar group of performers.
R. Kelly
sparkles on the specially recorded "Let Your Light Shine,"
Kanye West
churns out the uplifting "We Can Make It Better" featuring
Talib Kweli
,
Q-Tip
,
Common
and
Rhymefest
, sisters
Black Buddafly
introduce "Make A Change" and
Diddy
offers the soulful "By Faith" featuring
Fred Hammond
. "It's important for Americans to remember that rebuilding efforts and providing aid to those still in need is a long term process," R. Kelly shared. "It's easy for all of us to get caught up in our daily lives, but we should remember that the human crisis continues."
Also new to the collection are country megastars
Faith Hill
with "Precious Lord, Take My Hand" and
Clint Black
with "When the Levee Broke."
B.B. King
joins with a bluesy "Early In The Morning,"
Chris Thomas King
fuses blues and hip-hop on "What Would Jesus Do?",
Josh Groban
and
Bela Fleck
support with the soaring track "Alla Luce Del Sole," and gospel family
The Winans
resonate with "After All."
Among the ensembles featured in the collection is "Heart of America," written by Tim Blixseth and featuring
Wynonna Judd
,
Michael McDonald
and
Eric Benet
and "Come Together Now," co-written and co-produced by
Sharon Stone
, Denise Rich, Damon Sharpe and Mark Feist and featuring more than 20 artists.
The Hip-Hop Summit Action Network is the latest to join the industry-wide effort with representation from music's urban community. "Responding to the challenges of hurricane relief is an awesome responsibility, yet serving the ongoing needs of those most affected is a blessed cause worthy of our support and giving," emphasized
Russell Simmons
, Chairman of the Hip-Hop Summit Action Network. All of the participating artists, publishers, songwriters and record companies have waived their royalties and donated their services to this worthy cause as have the American Federation of Musicians (AFM) and the American Federation of Television and Radio Artists (AFTRA).
"Seeing so many people selflessly come together to help those affected by the recent hurricanes has shown us that the worst of mother nature can bring out the best in human nature," said Glen Barros, President of Concord Music Group. "The Concord team is honored to be a part of the grand spirit behind this industry-wide effort."
"'Hurricane Relief: Come Together Now' represents this industry at its very best, with artists, executives and music retailers all pulling together for an important cause," said Andrew Lack, CEO, SONY BMG Music Entertainment. "On behalf of everyone at SONY BMG, I'm proud to be associated with this project, and grateful to have the opportunity to help."
"So much of our musical and cultural history originated in the Gulf Coast, and Warner Music Group and our artists are enormously proud to have contributed time and talent to the music industry's benefit album, 'Hurricane Relief: Come Together Now,'" said Lyor Cohen, Chairman and CEO of U.S. Recorded Music for Warner Music Group. "Since these tragedies occurred, our entire company has been working together to help hurricane victims, and we are committed to help those affected recover and rebuild their lives over the long term."
"The value of music in our society is never more apparent than in times of crisis," said David Munns, Chairman and CEO of EMI Music North America. "EMI and its artists are proud to lend its resources and creative talents to the 'Hurricane Relief: Come Together Now' project."
"We are grateful for the contributions of our artists in this worthy cause and feel privileged to be able to help support the people affected most by Katrina," stated Zach Horowitz, President & COO of Universal Music Group. "When people purchase this CD, they will hear great music from a wide spectrum of artists all coming together to perform for one cause - to offer assistance to those who have suffered so greatly in New Orleans."
RIAA, on behalf of its member companies and all of the participating artists, publishers and songwriters, will donate 100 percent of its net proceeds -- at least $15.00(U.S.) -- from the purchase price of this CD to these charities for hurricane relief: American Red Cross (www.redcross.org), to help provide food, shelter, counseling and financial assistance to those in need; Habitat for Humanity (www.habitat.org), for the long-term goal of rebuilding homes and MusiCares Hurricane Relief Fund (www.musicares.org), to provide direct assistance to the members of the music community who have been affected or displaced.
Special thanks to the National Academy of Recording Arts and Sciences, The Harry Fox Agency, the National Music Publishers' Association and the National Association of Recording Merchandisers for their invaluable assistance in this project.
Hurricane Relief: Come Together Now will be available on Tuesday, November 22 and is available by pre-sale at
Amazon.com
. The suggested retail list price is $19.98.
FINAL TRACK LISTING:
R. Kelly - "Let Your Light Shine"
Kanye West, Talib Kweli, Q-Tip, Common, Rhymefest - "We Can Make It Better"
Black Buddafly - "Make A Change"
Diddy featuring Fred Hammond - "By Faith"
Faith Hill - "Precious Lord, Take My Hand"
B.B. King - "Early In The Morning"
Chris Thomas King - "What Would Jesus Do?"
Josh Groban with Bela Fleck - "Alla Luce Del Sole"
Gloria Estefan
- "Coming Out of the Dark/Always Tomorrow"
James Brown
- "Try Me"
Norah Jones
/Wyclef Jean - "Any Other Day"
John Fogerty
- "Born On The Bayou"
Dave Matthews Band
featuring
Robert Randolph
- "Louisiana Bayou"
Barbra Streisand
- "I Believe"
Clint Black - "When the Levee Broke"
Kirk Whalum/
Coolio
- "When the Saints Go Marching Back In"
John Mayer
/
Aaron Neville
- "Heart So Heavy"
Harry Connick, Jr. - "City Beneath The Sea"
Louis Armstrong
- "Do You Know What It Means To Miss New Orleans"
Various Artists - "Come Together Now"
Coldplay
- "Fix You"
Lenny Kravitz
- "Believe"
Neville Brothers
- "Brothers"
Bonnie Raitt
- "I Will Not Be Broken"
Various Artists - "Tears In Heaven"
Brian Wilson
- "Love and Mercy"
Michael McDonald, Wynonna Judd & Eric Benet - "Heart of America"
Elton John
- "I'm Still Standing"
Sting
with
Chris Botti
- "Moon Over Bourbon Street"
Dr. John
- "Goin' Back To New Orleans"
Van Morrison
- "Blue and
Green"
Professor Longhair
- "Mardi Gras in New Orleans"
Clifton Chenier - "Ay – TeTe Fee"
Rod Stewart
with Jerry Lawson and Talk of the Town - "People Get Ready"
The Winans - "After All"