'Stand Up Guys' Great Acting And A Killer Script Make This A Must See (Video)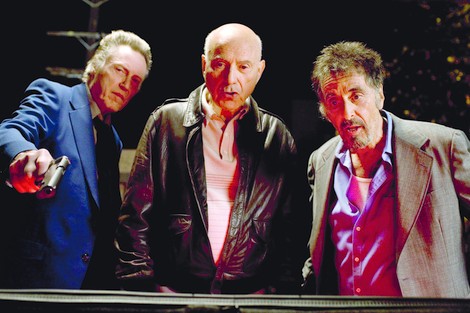 There are many reasons to see this quirky, independent, funny, touching, comedy but the main ones are - Al Pacino and Christopher Walken.  They are fantastic. Both of these fine actors give tour de force performances in their respective roles.
Al is Vall, a 60+ year old career criminal who's just been released from prison after serving twenty-eight years, for refusing to give up one of his close criminal associates.
His BFF, Doc (Christopher Walken) picks him up at the prison and the two guys spend the next few hours, talking about their glory days, drinking, popping pills and visiting a whore house.
But that's not all.  They wind up breaking out their old pal, Hirsch ( the wonderful Alan Arkin) from a nursing home.  From there things get even wilder. They guys steal a car and prove that despite their age, their capacity for mayhem, is still very much alive and well.
 It doesn't take long before bullets start to fly, as the men make a hilariously valiant effort, to compensate for the decades of crime, drugs and sex, they've missed.
But it's not all fun and games.  One of these old friends is keeping a dangerous secret.  Not to spoil anything, let's just say it has to do with a very powerful, very angry, mob boss bent on revenge.
'Stand Up Guys' which opens in theatres February 1, 2013 directed by Fisher Stevens and written by first time screenwriter, Noah Haidle is a must see for anyone who loves great acting, great dialogue and a great story.
I absolutely loved this film and gave it 41/2 bagels out of 5. Check out our video to see John's score and for our usual off the wall banter.
Please SUBSCRIBE to our channel on YouTube and LIKE us on our Two Jews on Film Facebook page.
Thanks everyone...And let us know what you think about 'Stand Up Guys'.