Staind To Play Special 9/11 Show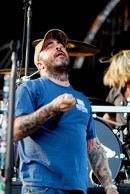 Rockers Staind have scheduled a special performance in New York next week to benefit the families of the 9/11 victims, who will mark the 10th anniversary of the terrorist attacks this weekend.

The group will play at the Best Buy Theater in Times Square and all tickets will be priced $9.11.

Staind frontman Aaron Lewis says, "We are deliberately making the ticket price $9.11 to underscore the point that if enough of us do just a little bit, together we can make a big difference in the lives of the families who's members made the supreme sacrifice for our country."

Tickets for the special show go on sale on Saturday.

Bosses at the band's label, Atlantic Records, have agreed to match Staind's donation from ticket sales for a separate additional donation to charity.