Stagecoach 2014- Mila and Ashton Go Country!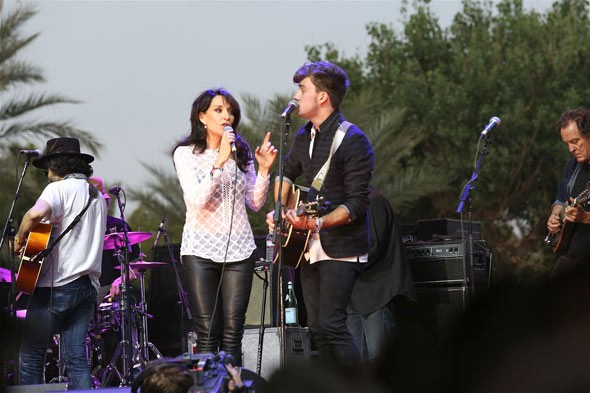 The Stagecoach Country Music Festival in Indio, California continues to get better and better every year and we aren't just talking about the headliners. This year the big names included Eric Church, Easton Corbin, Jason Aldean, Florida Georgia Line and Luke Bryan. But those were just a few reasons why the cowboys and girls in high waisted jean shorts flock to the desert every year to enjoy our favorite annual music festival.
This year, they actually put a petting zoo at the festival. A petting zoo! Bring on the goats, rabbits, the chickens, and the pigs (that were actually wearing fairy wings), mix them with a bunch of drunk twenty something's and you get a pen full of laughing 'children' and animals that can't wait to run away from them. As much as we enjoyed Eric Church, Brantley Gilbert and Easton Corbin bearing the crazy dust storm Friday night, we couldn't help but think of the giant 'elephant in the room' (aka the cheating scandal) while Jason Aldean was performing. The only thing that made us temporarily forget was when he brought out a hologram of Kelly Clarkson to help him sing "Don't You Wanna Stay." 
We were surprisingly most excited this year by a few non-headliners like Katey Sagal (aka Peg Bundy), Hunter Hayes, Dustin Lynch, Nitty Gritty Dirt Band and Ashley Monroe. Dustin got the crowd going when he covered Justin Timberlake's "Rock Your Body" and Trey Songz's "Say Aah" and there was nothing we didn't love about Hunter. We can now officially say that not only do we have the biggest crush on the 22 year-old uber talent but he made us cry twice during his set. 
And the biggest headline of the weekend? Ashton Kutcher and his fiancé, Mila Kunis were openly enjoying the tunes with the rest of us. The couple was spotted on Saturday and Sunday cuddling up together with friends enjoying the music together. The first day they were spotted, Mila was not shy about showing her tummy as her red flannel shirt freely exposed her baby bump, as Ashton wore a red 'Enjoy Iowa' t-shirt and cowboy hat. On the second day we saw the couple, they were hanging out backstage, her in a white crochet shirt and baggy jean cutoffs, him wearing a simple white t-shirt with a blue bandana and his signature weekend cowboy hat.