Stacy Keibler Gets Naked For New Picture Book About Bare Backsides (See Pic)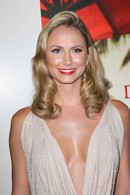 George Clooney's leggy girlfriend Stacy Keibler and Fergie are among the stars showing off their butts in a cheeky new book by photographer Raphael Mazzucco.

Victoria's Secret stunner Alessandra Ambrosio, pop star Nicole Scherzinger, singer/songwriter Sarah McLachlan and Pamela Anderson also feature in the 248 page coffee-table book "Culo," which features naked rear shots Mazzucco has taken over the past decade.

The photographer admits many of the shots were taken during spur-of-the-moment shoots: "Each picture and the nature of the shooting was in so many different places in the world, so a lot of the photographs are very spontaneous and we just went with that."

Keibler appears twice in the picture book - in one shot she's standing, facing a wall while gold paint is thrown at her; in the other she's reclining covered in black paint.

Stacy, who's thrilled about being in the new book, posted a teaser photo on her WhoSay page with the following message: "So excited for the release of CULO!!! It arrives 11.22.11. Raphael Mazzucco rocks! One of my fav photographers :) Here's a sneak peek!"

Sean "Diddy" Combs & Interscope Records chairman Jimmy Iovine collaborated with Mazzucco on the project, with Diddy serving as executive editor.

Culo means buttocks in Italian.