Stacey Dash Fires Back At Critics Over Mitt Romney Support; Endorsed Him Because Of 'The Content Of His Character'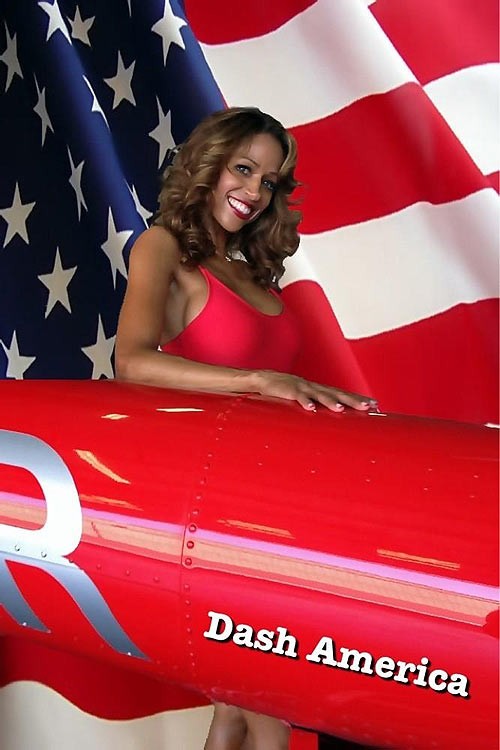 Actress Stacey Dash has spoken out after being attacked on Twitter.com for endorsing Republican presidential nominee Mitt Romney.

The 47-year-old Clueless star tweeted an image of herself in a red swimsuit in front of the American Flag with the message, "Vote for Romney. The only choice for your future"; after which she was criticized by fans.

Stacey appeared on Piers Morgan's CNN show Tuesday night for an interview over the tweet; telling the British host why she's supporting the Massachusetts Governor over Barack Obama, who she voted for in 2008.

"I would say because of the state of the country, and I want the next four years to be different," she says. "I believe him...I watched him, the Governor and his wife, on 'Meet The Press.'...They spoke to me, they seemed authentic and genuine."

Asked if she feels offended by the harsh tweets, she says, "I just feel that, you know, as a country, this is my choice. This is the man I want to lead my country. It is my right as an American citizen. It's my Constitutional right to have my choice of who I want to vote for for President. And I chose him not by the color of his skin but the content of his character."

One hate-filled message came from user R. Ellis, aka @WilliamEllisPhD; a doctor and politically active Democrat in Washington D.C., according to legal website JD Journal. Ellis re-tweeted Stacey's post, adding "kill yourself." The doctor has since deleted his twitter account.

Another user said, "I guess Clueless star Stacey Dash endorsing Mitt Romney shows that she is indeed clueless."

Dash replied to the harsh tweets, defending her right to free speech and firing back at her critics, "My humble opinion... EVERYONE is entitled to one."

Morgan also asked her how she felt about the state of political discourse in the U.S. as it pertained to her being both black and an actress.

"[I]t tells me that... the state of our country is that we are not united. You know? We need to be united, and we all need to understand that we're all capable of achieving the American dream... but that has to be something that is self-realized.
"And also to demonize someone for achieving the American dream is unfair."

Many of the actress' fans also came to her defense, posting things like, "What people are doing to @stacydash is wrong. She is entitled to her opinion"; and twitter-phrasing Martin Luther King Jr.: "i hv a dream my kid will live n a nation were they r judged not of the color of thr skin but of content of thr character."

See some of the tweets below...


Vote for Romney. The only choice for your future. @mittromney @teamromney #mittromney #VOTE #voteromney twitter.com/REALStaceyDash…

— Stacey Dash (@REALStaceyDash) October 7, 2012
Kill yaself you old hag "@realstaceydash Vote for Romney. The only choice for your future."

— Ohagi (@Briggs_Marley) October 7, 2012
Beauty of democracy is freedom to support the BEST candidate not one that most closely matches your skin color #ISupportStaceyDash #Mitt2012

— Lisa Shin (@lshin) October 9, 2012
What people are doing to @stacydash is wrong. She is entitled to her opinion.#isupportstaceydash

— Shawn Campbell (@shawncampbell11) October 9, 2012
If you call someone a racist because they're voting for someone of a different race, you, Sir or Madame, are the racist #ISupportStaceyDash

— Eric Andrews (@TweetSkeet13) October 8, 2012