'Springsteen & I' Review: A Must See For Boss Fans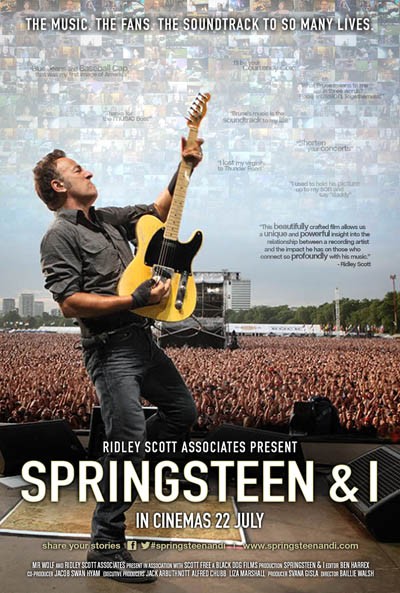 I know specifically the moment when I became a Bruce Springsteen fan for life.
It wasn't after I (illegally) downloaded so many of his live albums off of Napster when I was a college sophomore—don't worry music industry, I've long since erased everything I took and now purchase all of my music legally or use Spotify, which I also pay for.
It wasn't after my first live show, which I attended in Philadelphia in 2003. Nor the second live show, which I attended at the Meadowlands in 2009 or 2010.
It was about a year after 9/11 when The Rising album came out and I recall all the interviews Bruce gave about why he did the album. I can't remember the exact quote, but suffice to say, he said he did the album, because people asked him to. People needed him to do the album.
That determination to help people the only way he knew how—that made me a fan for life. And apparently, I'm not the only one to experience things like that in my decades plus role in being a Boss fan.
A new documentary called Springsteen & I is full of moments like these. It's a film that documents the life and career of Springsteen, but solely through the eyes and words of his fans throughout the world. Bruce appears throughout the film, but he's never talking directly to it—only his fans are.
Directed by Baillie Walsh and produced by Ridley Scott, the film is a compilation of all of these wonderful stories from fans about what Bruce means to them, a memorable moment in their life when perhaps they danced on stage with him (the King meets the Boss) or when he mysteriously gifted a foreign couple front row seats the first time they were in America.
Springsteen & I runs only 105 minutes and it never feels long, save for one or two stories that go on too long to try and achieve a comedic effect.
The film will be released on Monday, July 22, 2013 simultaneously in more than 50 countries.  It will also screen on July 30.
Fans can visit fathomevents.com to find out if their local cinema will be showing the film. It will also be available on home entertainment at some point.
If you're a fan, do yourself a favor and get yourself out to a theater on July 22 or July 30.
* Disclosure: The reviewer attended a recent screening of Springsteen and I, complimentary from the film's distributor. *