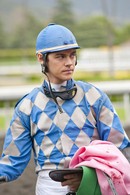 HBO's Luck isn't accurately reflected by its title. It's much more calculated than that.
Even though the network previewed the first episode of the nine-part miniseries not so long ago, there should still be plenty of eyeballs as it officially arrives tonight, if only because of the pedigree. The series is written by David Milch, who already wowed HBO viewers with Deadwood, and directed by Michael Mann.
Its cast, led by Dustin Hoffman, is a cornucopia of familiar faces for TV buffs, including Dennis Farina (Law & Order), Jill Hennessy (Law & Order) and Richard Kind (Spin City). Even the smaller roles have interesting names attached: Suits fans should be on the lookout for that show's co-star, Patrick J. Adams, in the role of Nathan Israel, a few real-life jockeys appear, and ESPN's Bill Plaschke has his first acting part. The entire ensemble turns in solid work, although watching the wily veteran Hoffman opposite the truly talented Adams is a particular delight.
The series is ambitious in the sense that with so many names attached, expectations will undoubtedly be high. Yet Milch and Mann have done a solid job creating a world, albeit one that's often tough to swallow (which should come as no surprise to anyone who's seen their previous work). They've brought this subculture of horse racing and everything that surrounds it to life, whether it's the lingo that has spawned a glossary on the show's official website or some beautiful shots of racetracks and stables. If the actors somehow don't hold your focus, the visuals certainly should.
Will people respond to a series about horse racing? That remains to be seen, but this reviewer can say that I knew next to nothing about the sport or the business of it prior to viewing Luck, and I had very little problem following the story. Aside from looking up a term or two, I was still able to enjoy it. I don't believe you have to know the world to be entertained; Milch, Mann and an obviously hardworking crew open that world up to you along the way.
Luck proves that there's still a place on television for a well-executed miniseries. The viewers get the satisfaction of knowing the entire story will be told over nine parts and come to a finite end. Sitting on the other side, as a writer, you get the chance to tell one story really well, without wondering about how it has to play in year two or three or four - and you can attract a different pool of talent for a nine-episode commitment than for thirteen or twenty-two.
This is the best of both worlds: a piece of work that is worth watching, and that operates on its own terms. Whether or not you know the subject, tune in if only to see how a good miniseries is done.
Luck premieres on HBO tonight at 9 PM ET/PT.