'Spring Breakers' Selena Gomez, Vanessa Hudgens, Ashley Benson & Rachel Korine Show Off Hot Bikini Bods For Interview Magazine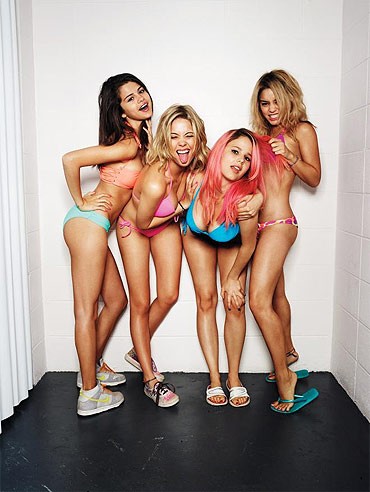 Spring Breakers stars Selena Gomez, Vanessa Hudgens, Ashley Benson, and Rachel Korine heat up the pages of the June issue of Interview magazine wearing little more than the skimpy bikinis they wear in the movie, due out in 2013.

The four young stars discuss their new film, about a group of rebellious girls who rob a restaurant so they can afford to live it up during Spring Break - but end up getting busted by police and falling in with a drug dealer named Alien (played by a very Kevin Federline-esque James Franco).

Written and directed by Harmony Korine (Rachel's husband and writer of the acclaimed 1995 film Kids), Spring Breakers is more of a "social experiment" according to the director; who says the attention the stars and filmmakers got while in production nearly serves as its own story.

"It was like there were two movies—the actual movie, and then the one that the media, paparazzi, and the people tweeting photos were also creating," he tells Interview.

"When I wrote the script, I started thinking about girls in bikinis with guns, wearing ski masks. I was like, 'Where would you see that?' And the idea of spring break came to me," he adds. "I just started imagining girls on spring break robbing places."

The film is a bit of a risk - and a departure for its stars.

"For Selena, Vanessa, and me, our audience is all in their teens or younger," says Pretty Little Liars star Benson; "so they're not even going to be able to see this when it comes out— it's not appropriate."

As for one of those inappropriate moments - Selena Gomez's character smokes a cigarette in one scene, but the actress reveals she had no idea how to do it.

"I'd never smoked a cigarette before in my entire life. It was really funny - they had to show me how to do it," she says.

To read the full discussion with the cast and director of Spring Breakers, head over to Interview.com or pick up the June issue of the magazine, on newsstands everywhere now.