'Spring Breakers' Madrid Photocall: A Belly Baring Vanessa Hudgens, A 60s Inspired Selena Gomez & More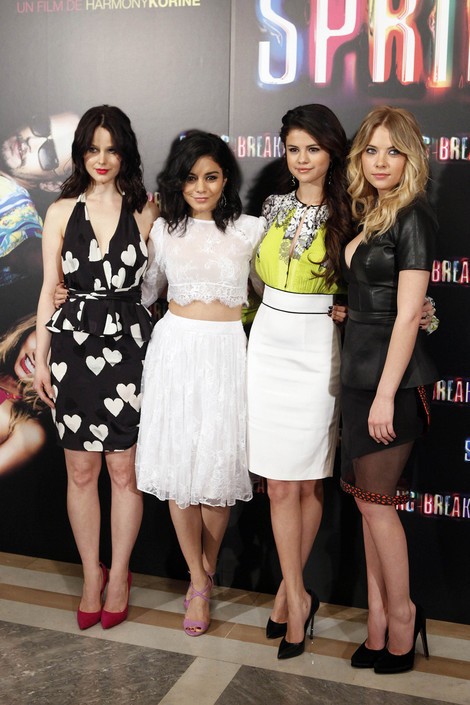 Vanessa Hudgens, Selena Gomez, Ashley Benson and Rachel Korine continued their European tour at the "Spring Breakers" photocall in Madrid, Spain, on Wednesday. Earlier this week the starlets appeared at premieres for the film in Germany and France.
In Spain, Vanessa rocked a white lace ensemble - a skirt with matching crop top that showed off her tummy.  Gomez channeled the 60s in a white pencil skirt and billowing, full sleeved yellow blouse.
Benson wore an unusual leather dress with a cutout on the bodice and a sheer skirt trimmed in red. Korine opted for a simple black dress with white hearts on it.
"Spring Breakers" centers on four college coeds who rob a diner to fund their spring break and wind up hooking up with a drug dealer who bails them out of jail. The film hits theaters on March 29.
Check out more photos of the four leading ladies...