Spotted: Justin Bieber & Selena Gomez On A Movie Date In LA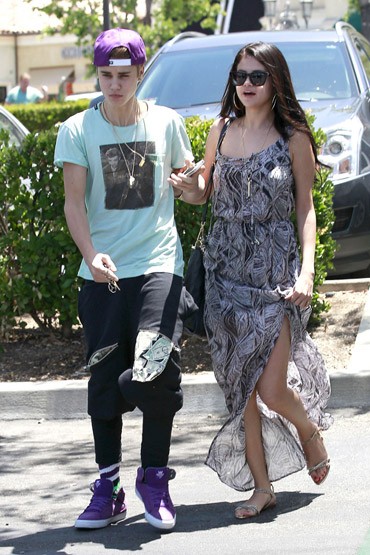 We spotted Justin Bieber and Selena Gomez return to Bieber's customized Mercedes-Benz van after a romantic movie date in Los Angeles on Sunday. Perhaps they saw "Men In Black III"?

Bieber wore a James Dean shirt, dollar bill embroidered shorts and bright purple sneakers. He covered his face with his baseball hat while photographers snapped pictures. Reports have circulated that Bieber had an altercation with a photographer while leaving with his girlfriend. The Los Angeles County Sheriff's Department is investigating the incident.
Selena wore a black and white maxi dress and dropped her cell phone in the parking lot before recovering it.
Bieber's lawyers recently sent a cease-and-desist letter to RC3, alleging their "Joustin' Beaver" cell phone app, which features a Bieber-styled beaver, infringes the singer's trademarks.
See more photos of the couple in Los Angeles...