Spotted: Drew Barrymore Trying On A Veil With Her Future Mother-In-Law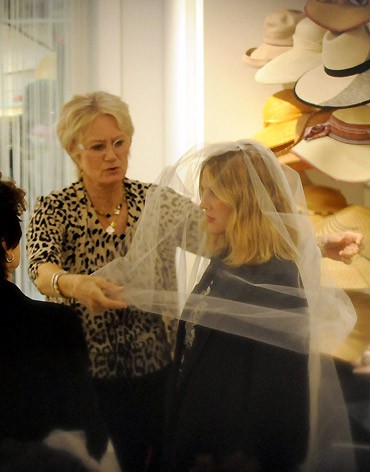 We spotted Drew Barrymore at Suzanne Couture Millinery in New York City on Friday trying on a wedding veil. She was shopping with her future mother-in-law, her rumored maid of honor, and a young flower girl.
The wedding is reportedly taking place June 2 at Drew's Montecito estate in California. The actress is also pregnant with her first child, but she has yet to confirm the reports.
Drew has been married twice before. She wed British bartender turned Los Angeles bar owner Jeremy Thomas in 1994 and filed for divorce less than two months later.  In 2001 she married actor/comedian Tom Green and was divorced 15 months later. We hope the third one's the charm for the actress!
See more photos of Drew...