Spotlight On Taraji P. Henson

A star was born in Southeast Washington, D.C. on September 11, 1970 and her name is
Taraji Penda Henson
, otherwise known as Taraji P. Henson. The first name Taraji means "hope" and the middle name Penda means "love," both being of Swahili origin.
No one can argue against the fact that this 38 year old single mother, with one teenage son, has certainly paid her dues to get to her current level of success. Henson is a graduate of Howard University where she transferred to, earning a degree in Theater Arts. To put herself through college she worked as a secretary at the Pentagon and waited tables at night on a dinner cruise ship (singing and dancing simultaneously). Prior to transferring to Howard, she attended North Carolina Agricultural & Technical State University where she studied Electrical Engineering. What a smart cookie!
If you are a Henson fan, then you should already be aware that she has not only done movies, but has appeared as a cast member of several television shows including ABC's "
Boston Legal
" and "
Eli Stone
," CBS' "
CSI
" and Fox's "
House
." Indeed, perfect acting practice for what is now looking like a long and prosperous career in Hollywood.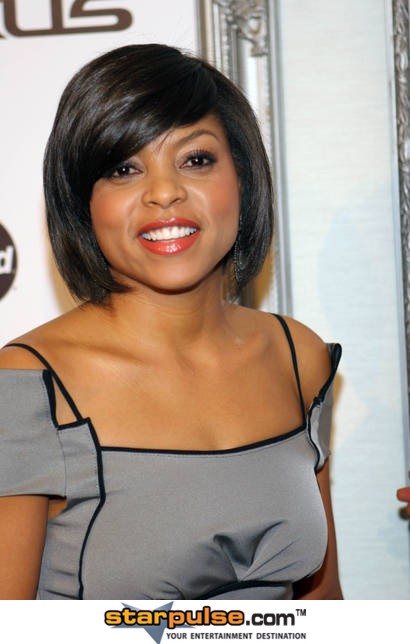 Image © PR Photos
Early on in her acting career, one of Henson's first notable roles was that of Yvette in the movie "
Baby Boy
" (2001), along side singer/actor Tyrese. The film was directed by John Singleton and was somewhat of a follow-up to his previous hit "
Boyz N the Hood
" (1991). The next time Henson was to receive much attention for her supporting role in a movie would be in 2005, when she played Shug in "
Hustle & Flow
." Following this, her career soared even further when she was nominated for a 2009 Best Supporting Actress Oscar for her role as Queenie in the blockbuster "
The Curious Case of Benjamin Button
" (2008). In between 2001 and 2009 Henson has done a number of other films as well, including "
Four Brothers
" (2005), "
Something New
" (2006), "
Talk to Me
" (2007), "
Smokin' Aces
" (2007), Tyler Perry's "The Family That Preys (2008) and most recently "
Not Easily Broken
" (2009).
There is no doubt that Hollywood is knocking hard on Taraji P. Henson's door and she is certainly answering the call. This is definitely one smart, pretty and very busy lady and in recognition of her accomplishments Henson won a 2009 BET Best Actress Award, which was well deserved.
In a February 2009 interview with EbonyJet.com, Henson admitted that if she were not an actress she'd problably be "working in hair, or makeup or wardrobe. If it's not the arts, maybe a chemist." We think, however, that she should not give this notion a second thought, after all, Henson has a number of movies yet to be released in late 2009 to early 2010 to keep her on the Hollywood radar, including "
Hurricane Season
," "
Date Night
," and "
Kung Fu Kid
" (a
Will Smith
produced remake of the original "
Karate Kid
"). More and more, Henson finds herself co-starring along side such acting notables like
Forest Whitaker
,
Ed Harris
,
Tina Fey
,
James Franco
,
Mark Wahlberg
and
Famke Janssen
, just to name a few. Talk about making it to the A-list!
Taraji P. Henson's next movie will be her starring role in
Tyler Perry's "I Can Do Bad All By Myself"
due out September 11, 2009.
Story by
Doshka Harvey
Starpulse.com contributing writer
Click the pics for Taraji P. Henson's gallery: