Spotlight On Notorious Hollywood Affairs

Valentine's Day may be over, but when it comes to Hollywood, breakups and makeups occur everyday, causing the media to hunt for the next juicy story of love found and lost in the city of angels. Unlike common relationships, these celebrities have chosen to declare their controversial romances in music videos, films, and everywhere in between. However, many of these notorious connections have not all ended in bliss. From Golden-era to modern-day, these are the top Hollywood affairs.
He's a Hollywood hunk who has played everything from a smooth talking cowboy to a seductive 18th century vampire. She's America's bad girl who isn't ashamed to lip lock her brother in public or carry her
ex-husband's
blood in a vial around her neck. When sparks flew on the set of their film
Mr. and Mrs. Smith
, the press went wild over the beautiful, yet unlikely match. It's too bad that Pitt was married to America's sweetheart and former "
Friends
" star
Jennifer Aniston
. It also didn't help that on the same year Aniston filed for divorce, Pitt and Jolie were seen playing house on a 60 page photo shoot for
Vanity Fair
. Within months of the divorce being final, Jolie confirmed in 2006 that she was pregnant with Pitt's first child. Years later, Brangelina continues to be one of the most talked about steamy romances that ever occurred in Hollywood. Not only has Pitt adopted Jolie's three children, but in 2008, they welcomed twins in France. In addition, Brangelina continue to travel around the world for their numerous philanthropy projects, as well as entertain fans with their blockbuster hits.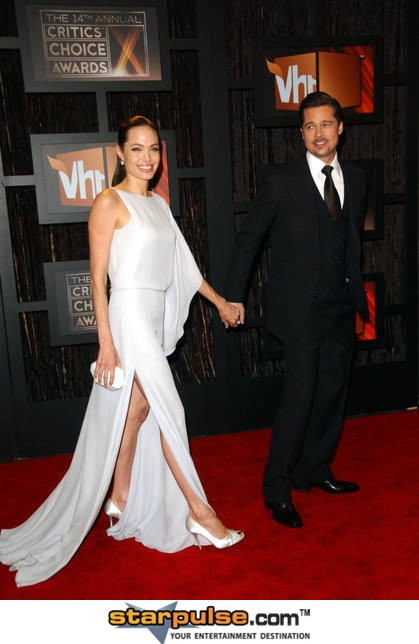 After making a name for himself as one of Hollywood's finest British actors, it seemed that Jude Law was ready to settle down with girlfriend and "It-Girl"
Sienna Miller
. It was an ideal match, especially since the New York-born Miller adopted London as her home. After co-starring together in the 2004 film
Alfie
, the duo became engaged by Christmas of that year and was living with one of Law's three children from a previous marriage. To help tackle their busy schedules, both Miller and Law chose to hire 26-year-old Daisy Wright as a nanny for the child. Too bad Miller didn't know that her fiancé had a thing for blonde babysitters. In 2005, Wright told the press about their secret affair, which included being caught by one of his children while they were having sex. Law later announced that he was "deeply ashamed" for hurting Miller. Despite Law and Miller trying to work things out, they soon parted ways for good.
What does a brokenhearted celebrity do after her fiancé had an affair with the family nanny? She has a sexual rendezvous of her own! That's exactly what Miller did shortly after her relationship with Jude Law came to an end in 2006. During the summer of 2008, Miller began having an affair with actor Balthazar Getty, husband and father to four children. While both denied the relationship, photos of a topless Miller smooching Getty while vacationing together in Italy spoke for themselves. It was no surprise that his wife Rosetta, who was humiliated over the very public romance, immediately split from her cheating man. Even though Getty chose to abandon his wife and children for Miller, she had the last laugh by dumping him later that same year. Since then, both have remained single.
Did they or didn't they? It doesn't stop the media from wanting to know whether Madonna and New York Yankees baseball slugger Alex Rodriguez shared a passionate affair. The supposed relationship started when A-Rod attended Madonna's concert in New York City last year on April 30 - just nine days after his wife gave birth to their daughter in Miami. A month later, Madonna sat front row at a Yankees game with her son Rocco. Reports of A-Rod stopping by Madonna's Central Park apartment kept the doormen talking about the late-night visits for weeks. His wife Cynthia Rodriguez then filed for divorce, stating that her famous husband had emotionally abandoned her and their children. While Madonna denied any romantic involvement with him, one of Cynthia's lawyers, Maurice Kutner, told the press that A-Rod's "relationship with Madonna was the latest situation in a series of events" that doomed their marriage. Coincidently, Madonna also filed for divorced from her husband
Guy Ritchie
months later due to his "unreasonable behavior." Since then, rumors continue to fly of A-Rod studying Kabbalah, sharing cozy dinners with the Material Girl, and most recently, being jealous of her 22-year-old boy-toy Brazilian model Jesus Luz. Whether they share the same manager or not, Madonna and Alex's Rodriguez's secret relationship continues to confuse their fans.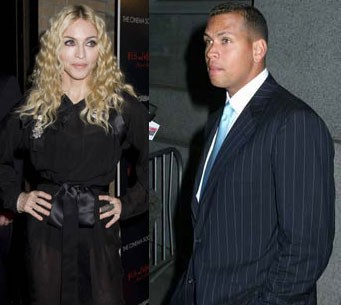 You think being a blue-eyed star with a gorgeous British supermodel would keep you faithful? In the case of British actor Hugh Grant, the answer was a huge, shameless no. In 1995, Grant was arrested and charged with indecent conduct with a prostitute on Sunset Boulevard. Grant was obviously going to get caught, especially since he was in the middle of LA's busiest streets late at night and his foot kept stepping on the brake pedal while getting down to business, making the lights go on and off. Although
Elizabeth Hurley
stood by Grant after he made a public apology, their relationship ended in 2000. Hurley invited her ex-boyfriend to her 2007 wedding with Indian textile heir Arun Nayar, but Grant chose not to show off his mug in public.

It's been 46 years since America's most famous blonde bombshell stood on a stage in Madison Square Garden wearing a $12,000 barely-there dress, singing a breathless rendition of "Happy Birthday" to
John F. Kennedy
. It was reported that in early 1962, Marilyn Monroe befriended the married brothers and had affairs with them, including JFK, President of the United States and husband to style icon Jackie O, and Robert. The affairs ended shortly before her mysterious death that same year, which then began rumors of the Kennedys silencing her the day before she was to "tell all" at a press conference. However, we may never know whether the Kennedys had anything to do with Monroe's death or the truth behind their threesome. Both brothers were later assassinated.
It was a match made in hell that not even bloggers could have made up: a 40-year-old rock star develops a not-so-secret affair with a 19-year-old actress while still married to a burlesque dancer. However, in the case of Marilyn Manson, the relationship only became weirder, which didn't surprise fans. While Manson was in the middle of his divorce with
Dita Von Teese
, his new mistress appeared in the music video "Heart Shaped Glasses" while sporting a Lolita-inspired getup. In his latest musical release, the couple was seen having sex covered in blood on the bed that Manson once shared with his ex-wife while he was still wearing his wedding ring. Despite the shock rocker proclaiming Wood to be his "twin," the relationship, just like his marriage, ended.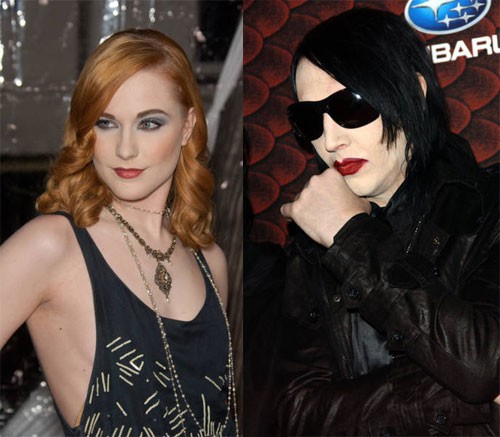 The on-and-off relationship of Golden-era Hollywood actors Elizabeth Taylor and Richard Burton continues to be recognized as the epic love story of the 20th century. Their scandalous affair occurred in 1961 when they were co-starring in one of history's greatest romances, the film
Cleopatra
. As the steamy scenes appeared both on and off camera, their passion for each other grew stronger, driving the press wild in wanting to know every detail that went on between the two. Both were already married, but that didn't stop Taylor, who was known for stealing then-husband Eddie Fisher from
Debbie Reynolds
four years earlier. The $40 million film may have been hated by critics, but the affair continued to flourish. Both Taylor and Burton divorced their spouses and married each other in 1964. Although they later divorced in 1974, they gave their relationship another chance by remarrying in 1975. Sadly the second marriage only lasted a year and Burton died in 1984. The now 76-year-old veteran actress continues to wear a diamond given by her greatest love.
The 14-year marriage between country superstar Shania Twain and music producer Robert "Mutt" Lange may have been a century in Hollywood years, but it certainly wasn't long enough to overcome the major scandal that awaited the two. In 2008, the couple announced their separation, but all wasn't as it seemed. Although Lange claimed that the marriage ended because he and Twain simply grew apart, he was actually having an affair with Marie-Anne Thiebaud, a longtime secretary and manager of the couple's chateau in Switzerland, as well as Twain's best friend. Although he and his lover left their spouses for each other, Twain didn't just stay alone with a broken heart. She enjoyed an extravagant shopping spree in New York City and a getaway to Florida with Thiebaud's ex-husband Frederic. If you can't beat them, join them!
Story by
Stephanie Nolasco
Starpulse contributing writer