Spotlight On Lauren Graham And Her Latest Film 'The Answer Man'

There's a double edged sword that comes along with being a famous television star; you have the success and Golden Globe nominations, but what do you do afterward?
Lauren Graham
is an actress of great comedic timing and ability, and after eight years on the hit show "
Gilmore Girls
," she made Lorelai Gilmore one of the coolest moms ever on television. Spunky, smart, and fast talking, Lorelai was a hit from the beginning in the sharply written TV series, and Graham's own personal charm certainly added to the character. All you Gilmore fans must be wondering, where did Graham come from and where is she going now? The last thing we want is this spritely actress to disappear!
Graham was originally born in Hawaii but moved to Washington DC as a child. She was serious about school and earned a BA in English and later a MA in Acting (the English part might explain how she could spit out her lines so incredibly fast on "Gilmore Girls!"). Graham started out making some quick but memorable guest appearances on shows like "
3rd Rock from the Sun
," "Caroline in the City," and "
Law & Order
." She also appeared in movies like
Sweet November
, and
Nightwatch
.
It was truly "Gilmore Girls" that catapulted the starlet into the spotlight as the co-lead (with Alexis Bledel as her daughter), and this lead her to appear in slightly larger roles. She had a great turn in "
Bad Santa
" as the wicked Sue, in "
The Pacifier
" with Vin Diesel, and "
Because I Said So
" as one of
Mandy Moore
's sisters. After eight excellent seasons of playing Lorelai Gilmore, and fans wondering if she'd live happily ever after with Luke already, Graham had a few more movie appearances in "
Flash of Genius
" and "
Evan Almighty
."
She just finished a run as Miss Adelaide in the revival of Guys and Dolls, so that means time for more projects! On July 24th, Graham will star alongside
Jeff Daniels
in "
The Answer Man
," a movie about an author who writes about spirituality but doesn't want his fans to be near him. Graham plays a single mom looking for guidance who just might be the answer for him, if you know what I mean! There was talk about ABC picking up a pilot starring Lauren Graham, but right now there doesn't seem to be that much information about when it will start ... or if it will.
Perhaps a return to the small screen is just what Graham needs to find her niche again. Despite her many talents and bright personality, it does not look like Graham has really managed to transfer to the big screen successfully. Or perhaps she just hasn't signed on for the best options out there. Whatever the case, if "The Answer Man" does well we may see more of Graham in the movies, but perhaps if it does not she will find herself back in TV. It would not be ill-advised, since she certain was a queen of television back in the day and deserves that kind of notice.
Support Lauren Graham on July 24th to catch her newest movie and keep an eye out for the next big thing on her docket! What do you think about Lauren Graham?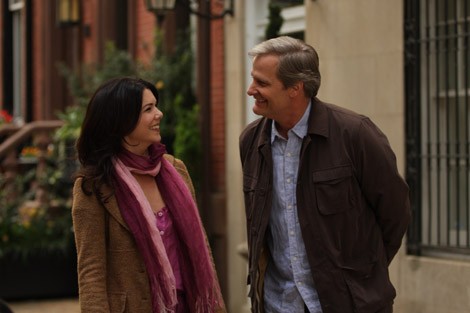 The Answer Man © Magnolia Pictures
Click the pics for Lauren Graham's gallery:
Story by
Chelsea 'Dee' Doyle
Starpulse contributing writer
Follow Chelsea on twitter at http://twitter.com/mustbethursday.