Spotlight On Kristin Chenoweth

With the voice of an angel and enough charm to wrap cynical
Aaron Sorkin
around her little finger,
Kristin Chenoweth
has spent a long time in the celebrity spotlight, yet always just on the outer edges.
Born Kristi Dawn Chenoweth 40 years ago, this Oklahoma-born girl got her start singing in church choirs and studying voice at Oklahoma City University. She earned a degree in musical theater and a MA in opera, and she then moved into pageant life by getting runner-up in the Miss Oklahoma contest of 1991 - a loss that she still jokes about fake-bitterly in interviews.
Kristin was given a full scholarship to the Academy of Vocal Arts in Philadelphia but ended up getting her first stage role in the musical "Animal Crackers" and moving to New York City instead. This began Chenoweth's long and happy romance with the musical stage.
Her first Broadway play was "Scapin," but she was best known for her role in "You're a Good Man, Charlie Brown" as little sister Sally. She ended up winning the Tony for Best Featured Actress in a Musical for this role and proved herself to be not just a singer but a talented comedian. This really came in handy down the road when she scored the co-lead role in huge Broadway hit "Wicked." It was about Glinda and the Wicked Witch of the West from "
The Wizard Of Oz
" in their childhood, based off a best-selling novel by Gregory Maguire. Chenoweth caused audiences to fall in love with the capricious and self-centered Glinda, and it was a true shame for the show when she moved on to other projects. Chenoweth has appeared on several shows to sing, and she was only the third musical star to have a solo concert at The Metropolitan Opera.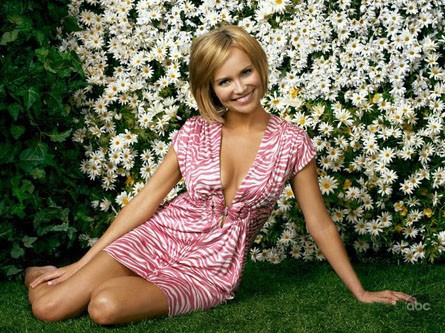 This woman is not just talented in voice and comic delivery; she is also a talented actress in films and television. She had a canceled sitcom named "Kristen" but then found a real niche in the show "
The West Wing
" as the White House's media consultant. When ex-boyfriend Sorkin created a new show "
Studio 60 on the Sunset Strip
" he asked her permission to base the beautiful and intelligent comedian Harriet Hayes after her. Harriet was a Christian singer and comic who was involved in a confusing romance with lead character Matt, who was very like Sorkin himself.
Chenoweth is famous for her faith in Christianity but also in her open minded belief in the rights of all people, specifically homosexuals. This caused her to be uninvited from a 'Women of Faith' conference in 2005 since she supported her gay fans openly.
In movies, Chenoweth has appeared in "
Bewitched Movie
," "
Pink Panther
," "
RV
," "
Running With Scissors
," and several others. She will be appearing in "
Four Christmases
" this month (Nov. 26) with
Reese Witherspoon
and
Vince Vaughn
, as well as providing the voice for legendary fairy tale character Rapunzel in an upcoming Disney film.
Right now she stars on the odd and sweet show "
Pushing Daisies
" as Olive Snook, a woman hopelessly in love with a man who doesn't seem to know she exists. Chenoweth was nominated for Best Supporting Actress in a Comedy for this role and continues to cause fans to laugh and tear up at Olive's feisty lovelorn ways.
This extremely talented woman has lit up the stage, screen, and singing world for years, and hopefully we will see her for many more to come. After all, like Glinda says in "Wicked," the key to the world is popularity, and since Kristen Chenoweth's star is rising high, she will have plenty of power in that tiny little fist of hers.
Story by
Chelsea 'Dee' Doyle
Starpulse contributing writer