If someone said years ago that
Jon Stuart Leibowitz
would become one of the respected and beloved comedians in the world, he would have been the first person to start laughing. After all, he was "that dude" from movies like "
Half Baked
," "
The Faculty
," and "
Playing by Heart
." He changed his name in Hollywood to
Jon Stewart
, and "The Jon Stewart Show" was canceled after a very short life span. He was a somewhat successful stand up comedian, and hosted "Short Attention Span Theater" on Comedy Central and an MTV show called "You Wrote It, You Watch It." Neither of which did particularly well. Yet now he is an Emmy Award winning writer and television show personality and is one of the most trusted names on television, despite his show being entirely fake and satirical. It has been a long and interesting journey for Stewart.
Stewart was born in New York City but raised in New Jersey. He was teased in school and was voted "Best Sense of Humor" before moving on to the College of William and Mary. His major was psychology, and after graduating he worked for a huge variety of weird and different jobs. He married his long time girlfriend Tracy after proposing to her in a personalized crossword puzzle. They have two young children. Stewart started doing stand up in 1987 and his first show was at The Bitter End. He became a regular at Comedy Cellar and performed every night until finally getting a television writing job at "Caroline's Comedy Hour." This began his slow ascent into the comedy world on Comedy Central and MTV, and "The Jon Stewart Show" may not have been around very long, but it was the second highest rated show on MTV after "
Beavis and Butthead
." This led him to get noticed by
David Letterman
who helped Stewart out, and eventually got him guest host positions on "The Late Late Show."
The Jon Stewart Show - MTV Days - Holiday Special

With small film roles in between his writing or stand up gigs, Stewart was doing well enough but he wasn't exactly reaching any sort of fame. When "The Daily Show" fell into his lap, it had only been around for a few years and was successful enough but nothing really special. Stewart took over as host in 1999 and changed the show's content and style, moving the focus into political satire and general commentary on humanity and the media. It is a "fake news" program that is hosted by Stewart and has several regular comedians who act as fake reporters. The humor can range anywhere from sarcasm and witty banter to toilet humor and slapstick.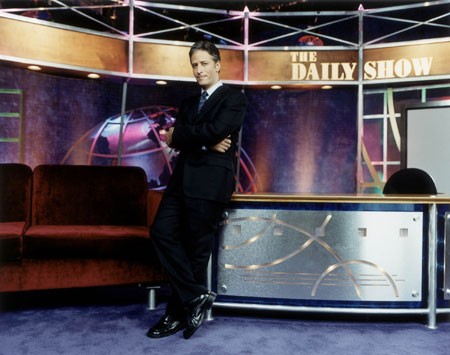 Under Stewart's twinkling eye, "
The Daily Show
" has won eleven Emmy Awards, six of which are consecutive awards for "Outstanding Variety, Music or Comedy Series." This is against other famous hosts and their shows like
Conan O'Brien
, David Letterman, and
Jay Leno
. It has tripled in ratings since he started hosting, so it is not difficult to assume that this show's success is related entirely to Stewart and his new direction for the show. Several of his protoges from the show have branched out in other directions, like TV and movie star
Steve Carell
, and fellow show hosts
Stephen Colbert
and
Lewis Black
. Stewart has interviewed
John McCain
,
Barack Obama
,
Hillary Clinton
,
Bill Clinton
,
John Edwards
, and most of the major political faces in our world today. His moving speech after September 11th is one that should live on for years, and I dare you to keep a dry eye as he fights off tears for the entire monologue.
Jon Stewart is a best selling author, an actor, a comedian, a television show host, a vicious enemy of sloppy television journalism, and a smiling critic of anyone who deserves a shot - left or right wing. Do not let that innocent smirk fool you, or accept the misconception that he is some "clown" on Comedy Central. His sharp wit and unflagging honesty can be brutal, but luckily for most of us, we can just sit back and watch as he ridicules the worst and best parts of the modern world.
Story by
Chelsea 'Dee' Doyle
Starpulse contributing writer