Spotlight on John Krasinski

The one hour season premiere of
The Office
is just weeks away (Thursday, September 25, 2008 at 9:00 PM on NBC) and that means our weekly dose of cutie Jim Halpert aka
John Krasinski
will soon be back! Who doesn't love this charming and funny guy? John is like your best friend's older brother who you had the biggest crush on in middle school; adorable and silly in a geeky kind of way. You'd find yourself going over to your friend's house more and more and wondering if he was home…just like you find yourself tuning into The Office more and more just to see Jim Halpert's smiling face.
A native of Newton, Massachusetts, John is the youngest and shortest of three boys. Although he is 6'3", his brothers are both over 6'6". Yes ladies, there are three Krasinski boys! John's father is a doctor and his mother is a nurse. And no, you are not the only one who's looked up his father's practice in Newton and contemplated going in to have that cough checked out… oh wait, what? Stalkers! John seemed as though he had the perfect suburban upbringing. Sigh!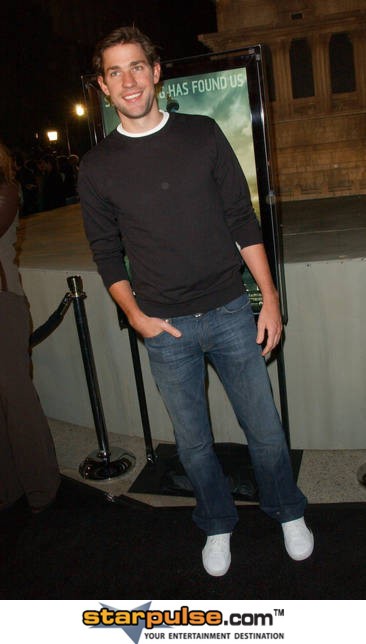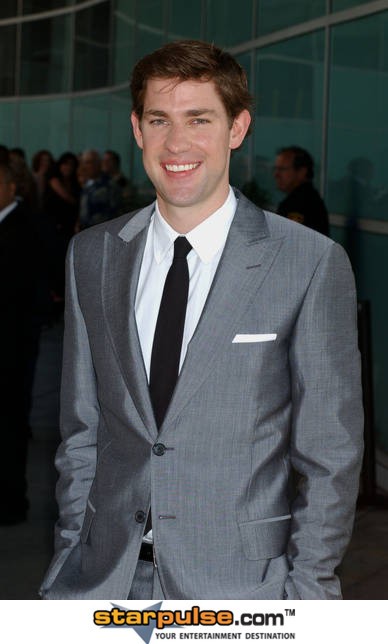 He originally wanted to be an English teacher while studying at Brown University but luckily decided to go for a career in the arts and studied theater. Before getting his big break as an actor, he was a script intern on
Late Night with Conan O'Brien
in the summer of 2000. It must have been quite odd to actually be a guest on the show years later after being a peon backstage for a summer.
Even though John has been in many movies including
Jarhead
,
Dreamgirls
,
The Holiday
,
License to Wed
and
Leatherheads
, he is best known as Dunder Mifflin sales rep Jim Halpert on NBC's The Office. His character is a sweet funny guy who spends most of his workdays annoying his brown nose paranoid co-worker Dwight. It's rumored that his fellow actors say John is very similar to Jim in real life.
John was also featured in People Magazine's Sexiest Man Alive issue in 2006. The magazine said he was sexy because he's a "real-life cut up." John replied to the magazine's honor, "Being funny is one of my greatest strengths. I can make girls smile when they're down, and when we're having a good time, I can carry on the joke." Who wouldn't want John to make you smile? Tall and adorable with a serious sense of humor takes the cake!
Click the pics for gallery & larger images:
Story by
Erin Demchak
Starpulse contributing writer