Spotlight On Dramatic Actors Who Choose To Go Comedic

Matt Damon
may have once started out as a serious thespian with small parts in films like
Courage Under Fire
and
The Rainmaker
, but he really didn't make a name for himself until 1997's
Good Will Hunting
, for which he also won an Oscar for screenwriting. There the blond-mopped young man played deep, pensive, and somewhat brooding characters, so it's a far cry to see him years later donning prosthetic noses and busy mustaches in order to get some added laughs for quirky, somewhat socially awkward characters. But Damon, in movies like the
Ocean's Eleven
series and now
The Informant
has proven himself to be quite the chameleon and has thus garnered a whole new audience and demographic from it, making him truly a winner.
And Damon is in great company. Here are a few more who made names for themselves as dramatic actors but turned surprisingly successful as comedians - and of course those who did not.
You don't get more serious of a performer than
Johnny Depp
. The man is so serious about his craft that he moved his family out of the Hollywood scene - so far out he's across oceans and continents - in order to avoid getting swept up in any superficial aspects of the "fame machine." Though it can be argued that some of Depp's early work (
Edward Scissorhands
, for example) was comedic in nature, those weren't the roles that truly made him a powerhouse. So when he turned up as Jack Sparrow in Disney's
Pirates of the Caribbean
series, it was something of a shock to see him all done up in heavy eyeliner, swaying confidence and casualness, and cracking dry jokes. But he never failed to elicit laughs, and that's the mark of a truly great actor: he can be successful in any genre to which he really asserts himself.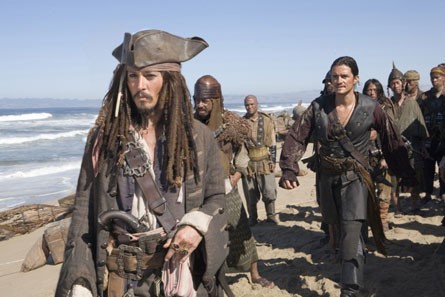 Image © Disney Enterprises, Inc. All Rights Reserved.
Robert Downey Jr.
went full-method for his role as
Charlie Chaplin
, which was quite a serious film despite the obvious gags involved in the transformation under which he needed to go to turn into the black and white film star. But Downey Jr. always stood out, particularly when he donned full blackface to play a white actor playing a black actor in the movie within the movie of
Tropic Thunder
. The premise alone is confusing and hilarious, even if slightly offensive at first. With Downey Jr. in the role, though, with his easy charm and natural knack for witty comedy, it was never awkward or uncomfortable and only purely funny.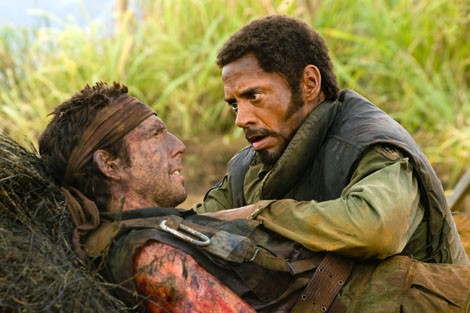 Image © Paramount Pictures
Even
Tom Cruise
must get a mention for playing waaay against type and winning back over many of his critics with his brief appearance in Tropic Thunder. But it was kind of a stretch to have him portraying the dashing leading man (all five foot seven of him). One image of one of People's Sexiest Men in a fat suit, big fake nose, and bald cap was enough: he didn't even have to say anything. Of course the rant that came spewing out of his mouth was just as equally against type and salacious, making the moment all the better! He definitely stole that film directly out from under the overrated
Ben Stiller
!
Edward Herrmann
is known to many as Richard Gilmore, the somewhat imposing but not altogether unfunny father to Lorelai and grandfather to Rory on the WB's
Gilmore Girls
. However, for years prior to that role that made him famous with a whole new generation (mostly of young girls), he was spending his days on-screen with classic adaptations like "The Great Gatsby" - something those same young girls probably had to watch for English class to compare and contrast to the actual book version. Unfortunately for Herrmann, not all of his forays into comedy were as successful as that aforementioned television one, though. Portraying
Isla Fisher
's father in the straight-to-DVD comedy
Wedding Daze
, though, Herrmann unfortunately falls flat, though through little fault of his own. It's just so hard to look at the distinguished and dignified performer making lowbrow genitalia jokes.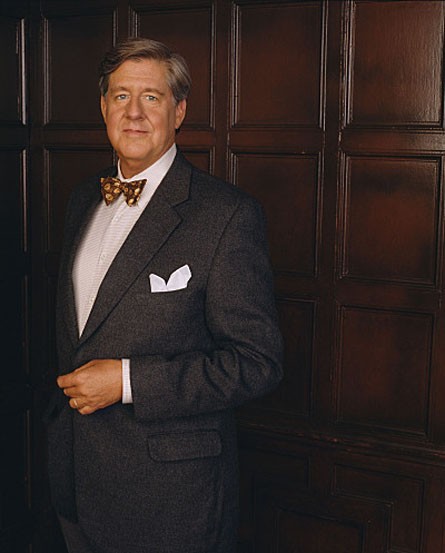 Image © The CW Network, LLC. All Rights Reserved.
Story by
Danielle Turchiano
Starpulse contributing writer