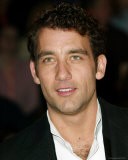 Even though he wasn't chosen to play the new James Bond,
Clive Owen
is suave and sexy nonetheless. After all, he's performed with equally sexy leading ladies such as
Angelina Jolie
,
Natalie Portman
, and most recently,
Jennifer Aniston
. Owen and Aniston star in the upcoming film Derailed, a movie about a clandestine love affair that leads to terrible consequences. This is Owen's fourth major film in two years -- he most recently starred in
King Arthur
,
Closer
and
Sin City
.
Owen was born Oct. 3, 1964, in Warwickshire, England. He began seriously pursuing acting when he was 20 years old by attending the Royal Academy of Dramatic Art. He later joined the Young Vic Theater Company, where he performed in a number of classic plays. By 1986 he began acting in TV movies as well as big screen films. Owen entered the international scene when he earned critical acclaim for his 1998 film
Croupier
. He later starred with
Helen Mirren
in
Greenfingers
while remaining active in the theater community.
In 2001, BMW hired Owen for a series of short films, further introducing audiences to his on-screen charisma. The actor followed this up with parts in
The Bourne Identity
and
Beyond Borders
before landing the title role in King Arthur. The actor has several films in production, including Sin City 2, the Spike Lee movie Inside Man, the sci-fi drama The Children of Men, and the period piece Elizabeth: The Golden Age.
Related Links:
Clive Owen biography, wallpapers, photos and more
Other celebrities on Starpulse