Spotlight On Chris Tomlin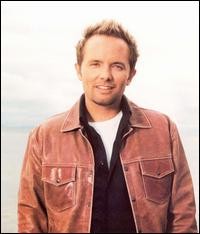 Last year proved to be a breakthrough experience for artist- worshiper, sixstepsrecords/Sparrow Records'
Chris Tomlin
. Capping the year with his first RIAA Certified Gold sales award for his current, critically acclaimed studio album, Arriving, 2005 also brought Tomlin a series of firsts at radio, retail and on tour.
Released Sept. 21, 2004, Arriving immediately became a top-seller, debuting at No. 39 on the Billboard Top 200. The album hit is stride six months into its release when it re-entered the Billboard Top 200 and landed at No. 1 for the first time on SoundScan's Top Christian Albums retail chart in March 2005. As momentum continued to build for Tomlin, he received his first GMA Music Award for Praise & Worship Album of the Year in April for Arriving, which was also voted best album in the 2005 Christian Retailing Retailers Choice Awards' Music category in July. Additionally, the album landed among the top five "Best Inspirational Albums of 2005" at iTunes, was named a "best of '05" on Napster's home page and marks the first Gold release for sixstepsrecords.
"All of us at 'sixsteps' have been humbled by the favor that seems to be resting on Arriving," says Louie Giglio, sixstepsrecords founder and popular speaker/author. "We feel like the songs are God's gift for this generation of worshipers, entrusted to us to build up His church. Chris has carried them exceptionally well and God has used both album sales and radio airplay to exponentially broaden their reach to people around the globe."
"It has been an honor for EMI CMG to partner with sixstepsrecords in the artist development story of Chris Tomlin that has unfolded over the last three years," says Peter York, EMI CMG Label Group president. "Chris is one of the most prolific and engaging songwriters of the modern church. His music has impacted, encouraged and inspired believers around the world. We look to the future with great anticipation."
Finding success at retail, Tomlin also became R&R's most played artist at AC Christian Radio in 2005, while simultaneously capturing No. 1 at Inspirational radio on the year-end charts. Once relegated to Sunday morning radio shows, Tomlin's "Indescribable," "Holy Is The Lord," and "The Way I Was Made" have sparked unprecedented airplay. Tomlin's fourth single from Arriving, "How Great Is Our God," released to radio Dec. 16 and has already garnered a Worship Leader Praise Award for "Best Praise and Worship Song."
Wally Decker of Winston Salem's WBFJ-FM remarks on Tomlin's radio success and the depth of the songs on Arriving: "The chart figures speak for themselves, then you realize that perhaps the best song from Arriving is only now making its way to radio, 'How Great Is Our God.' The songs we played in 2005 will become the hymns of our generation and the next."
Tomlin's songs also translate well live. Leading worship on the All Things New Tour with Steven Curtis Chapman and Casting Crowns that wrapped up last spring, followed by leading music fans during the summer festivals, and recently finishing the fall leg of his Indescribable Tour that saw 17 sold out nights, Chris Tomlin's touring in 2005 put him in front of well over 500,000 people. After leading 18,000 during the Passion 06 collegiate gathering in Nashville last week, Tomlin continues this month on the Indescribable Tour with Giglio and fellow artist-worshiper and label mate, Matt Redman.
"The Indescribable Tour was just that, indescribable...a powerful night of worship," says promoter Cliff Reiser, Rush Concerts president. "From the beginning of the concert to the end, it was a truly audience participation event. Chris and Matt both invigorated the audience with all those songs we all sing on Sunday, led by the artists who wrote them. An absolutely mesmerizing presentation by Louie Giglio made the night even more special. Promoter's do not usually see shows...I took the time to see this one. It was a great example of what contemporary Christian concerts can be and the impact they can have."
The live Chris Tomlin tour experience was captured for the first time this year before a packed Austin Music Hall. The already critically acclaimed recording, Live From Austin Music Hall, released Dec. 26. The album consists of such CCLI chart favorites as "Forever," "Famous One," and "Kindness," as well as a brand new live version of "Indescribable" with Tomlin playing piano.
Tomlin is also featured on the best sellers, Music Inspired By: The Chronicles of Narnia: The Lion, The Witch and The Wardrobe, which released Sept. 27, and Passion: How Great Is Our God, which released April 12.
Featured this month for the first time on the cover of CCM magazine, Tomlin is known for writing anthems sung by millions of people each week in churches around the world and has 15 Top 500 CCLI charting songs. Rooted in Passion's collegiate movement that the New York Times calls "Christian Music's New Wave," Tomlin released his first book in February, The Way I Was Made.