Spotlight On Bill Murray's Best Films

It's been a rough last few months for one of our favorites,
Bill Murray
. We will forgo rehashing Murray's legal and
marital problems
and instead take a look back at the greatest movies in his career where Murray plays the lead (sorry "
Caddyshack
" fans!).
It has been quite some time since we saw Bill on the silver screen-not counting a blink-and-you-miss-him cameo in this summer's "
Get Smart
." Though, there is already positive buzz on next year's "The Limits of Control".
Also, in case you missed it, here is video from a few days ago when
jumped out of a plane
to open the 50th annual Chicago Air and Water Show!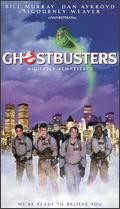 5.
Ghostbusters
1984
In a role originally written for
John Belushi
before he died of a drug overdose, Murray seamlessly stepped into the role of Dr. Peter Venkman. A role, now, that few could imagine being played by anyone else but Bill Murray. Obviously, the chemistry between Murray and co-stars
Dan Aykroyd
and
Harold Ramis
resonated considering, at the time, "Ghostbusters" became the highest grossing comedy of all time. Murray reprised his role as the voice of Venkman in a new Ghostbusters video game due out in late 2008.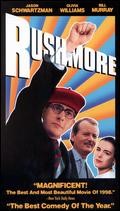 4.
Rushmore
1998
This is the first film to garner Murray actual Oscar talk which, sadly, did not happen. Murray plays millionaire Herman Blume who falls in love with a much younger teacher named Rosemary Cross (
Olivia Williams
), who also happens to be the love interest of high school student Max Fischer (
Jason Schwartzman
) as they fight - literally - for her attention. This role was a break for Murray from the traditional comedic roles he was used to, where he plays a very quirky character in a very quirky film. It's interesting in the fact that Murray, in the last ten years, has now based his career playing these types of characters.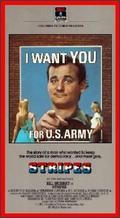 3.
Stripes
1981
Who doesn't love John Winger? Who would not want to party with John Winger? John Winger defending our nation? That is another story entirely. After barely winning a bet with friend Russell Ziskey (Harold Ramis) on his ability to perform five pushups, Winger (Murray) is talked into joining the U.S. Army. What became Murray's first big budget starring role - following his scene stealing performance as Carl Spackler in "Caddyshack" - it also became his first unequivocal box office smash. With all due respect to Sgt. Hulka (
Warren Oates
), John Winger can be our "Big Toe" any time.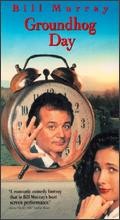 2.
Groundhog Day
1993
Phil Connors (Bing!) becomes stuck on the same day - Groundhog Day - until he learns to find peace and harmony. Only then is he allowed to move on with his life. What starts off as a typical studio comedy involving a local weatherman sent out to cover the result of Puxatony Phil seeing his shadow becomes a proverbial Zen lesson. Directed by former co-star Harold Ramis, "Groundhog Day" has been deemed a spiritual film by religious leaders for the film's themes on self-retribution. A modest success at the box office, "Groundhog Day" has since become Murray's role with the largest cult following.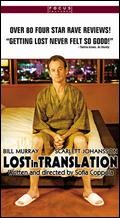 1.
Lost in Translation
2003
Bill Murray stars as a former big-time movie star Bob Harris who is in Tokyo filming a whisky commercial. Wacky hilarity ensues. Or, at least, it could have if a less skilled actor was playing the role of Harris. Instead, Murray brought a much needed subtlety to the role of an almost has-been actor in a loveless marriage and the connection he has with a newlywed woman more than half his age (
Scarlett Johansson
). What could have come off as a typical May-November romance instead became a touching story about how loneliness, and the longing to reach out for an emotional connection, can strike anyone, regardless of age. Keep in mind all of this happens without any physical relationship between the two characters. In fact, a physical romance would have ruined the unique and quite innocent relationship these two form. It is hardly a surprise that Bill Murray was nominated for his only Academy Award nomination, as Best Actor, for this film. What is a surprise is that he lost.
Honorable Mentions:
"
Broken Flowers
"
"
What About Bob?
"
"
Mad Dog and Glory
"
"
Quick Change
"
"
Meatballs
"
What's your favorite Bill Murray film? Make a comment!
Story by
Mike Ryan
Starpulse contributing writer