Spotlight On Ashley Tisdale

Unlike her High School Musical contemporaries- *cough*
Zac Efron
and
Vanessa Hudgens
*cough* -
Ashley Tisdale
was already an established star of the small screen before the TV musical defined high school expectations for a generation of tweens. As costar of the wildly popular "
The Suite Life of Zach and Cody
," Tisdale was already a loyal servant in the Disney machine.
You may not realize it from her penchant for playing ditzy high schoolers, but Tisdale is 24 years old, so it's perfectly legit to lust after her. She's also got some rocker in her, which will be on display for her second album "Guilty Pleasure" (her first album, "Headstrong," went Gold).
Tisdale stands out because unlike Efron, Hudgens, Miley Cyrus and other big name Disney kids, Tisdale seems unconcerned and unrushed in shedding her goody-goody image in favor of a racy, "adult" role. Consider her post-HSM roles: a "
Hannah Montana
" appearance, voicing animated characters on "
Kim Possible
' and "Phineas and Freb," "
Picture This!
," and the upcoming "
Aliens in the Attic
." Her in-development credits on are "Teen Witch" and an Untitled "Mall Project." This is clearly a girl who is aware of her core audience and knows how to work it.
In "Aliens in the Attic," Tisdale plays the older sister who is so not happy about being on vacation with her family - basically Hilary Duff's role in Cheaper by the Dozen 2. Except instead of fighting with 11 siblings, Tisdale must battle CGI aliens who have invaded the house. No doubt, hilarity ensues and Tisdale remains safe in her bubblegum world. Don't worry, though; she's bound to rebel sometime soon.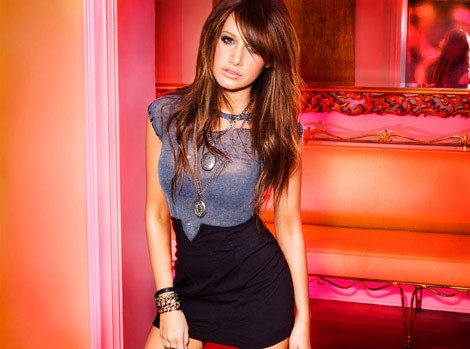 Image © Bob Charlotte / PR Photos
Story by
Ariel Vered
Starpulse contributing writer