'Sports Night's' 15th Anniversary: The 5 Best Moments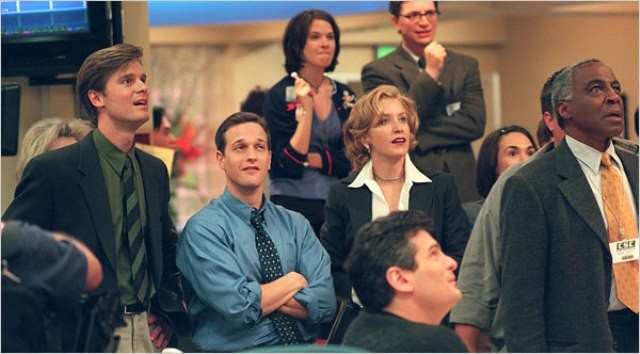 15 years ago today, there was Sports Night. There were many things about this classic show to love, but in honor of today's anniversary, BFTV has compiled our 5 best moments from our favorite TV series, in the order that they aired. Read on to see if yours made the list. (And if you missed it, you can also read our retrospective on Sports Night by clicking here.)
1. Ntozake Nelson (from "Pilot")
From the very beginning, Sports Night established itself as a show that was going to move us. The pilot included the story of Ntozake Nelson, a South African distance runner who's competing internationally - after previously having both his legs broken and being told he'd never walk normally again. The end of the episode, where the entire staff gathers to watch Nelson race, is a thing of beauty that will have you cheering and crying at the same time. With that final scene, Sports Night put us on notice that it was going to be a TV show like no other. Click above to watch the pilot and enjoy it for yourself.
2. Dan's apology (from "The Apology")
In "The Apology," Dan Rydell (Josh Charles) is made to issue an on-air apology after remarks he made in a magazine interview upset the network. Originally resistant to the idea, he eventually does as he's told, but he's not apologizing to the network. Instead, his words are directed at his younger brother, Sam, whose death Dan still feels responsible for. It's a heartwrenching monologue, delivered flawlessly by Charles, who essentially breaks down his character in mere minutes. It's this scene that made us love Dan, and take notice of Charles' truly underappreciated talent, not to mention changed our lives, too. Click above to see it for yourself.