Spoofing Up With The Kardashians - Watch The Funniest Parodies Of Kim Kardashian & Her Family (Video)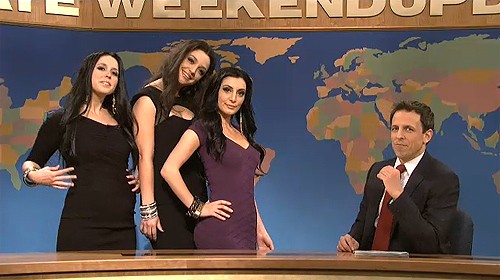 Kim Kardashian is an easy target. With her divorce from NBA player Kris Humphries making all the headlines lately; a sex tape that made her famous in the first place; and a family of socialites all driven to keep themselves in front of rolling cameras every minute of their lives it's no surprise that they get made fun of. A lot.

Saturday Night Live's ongoing spoof of sisters Kim, Kourtney and Khloe (played to near-perfection by Nasim Pedrad, Vanessa Bayer and Abby Elliott) has been recurring for a few seasons of the long-running late show, beginning with focus on Kim's butt to an all-out hilarous play on Kim and Kris' split in the hilarious "Kim's Fairytale Divorce."

We're not sure what Kim thought but Kourtney loved it. After the show she Tweeted, "I peed! The @KrisJenner was classic. RT @KhloeKardashian: Ha! I just saw the SNL skit they did and I could not stop laughing.... LOL."

And Khloe got a kick out of it too. "Ha! I just saw the SNL skit they did and I could not stop laughing.... LOL."

E! talk show host Chelsea Handler had Khloe on as a guest once and found it a great opportunity to make fun of her family's show - even getting Kardashian matriarch Kris Jenner (who also has a great sense of humor about these things) to join in the fun and making it the first time her sidekick Chuy and Chewie were in the same room together (you'll have to watch it to see what we mean).

But perhaps the most classic of all was MADtv's delightfully hilarious spin on the family's reality show, Keeping Up With the Kardashians, that centered on stepfather Bruce Jenner, his Olympic gold medals, and motorboating ("I'm not your real dad").

Watch them all below!


Jay Leno on Kim's divorce...

When that 'Kardashian Credit Card' was a bust SNL's Seth Meyers had some questions for the girls...

Regis and Kelly join in on the satire:
Chelsea Handler - Chewie & Chuy

Happy Holidays From The Kardashians

MADtv's Keeping Up With The Kardashians (unfortunately - much to our disappointment - the whole skit can't be seen here, but it's worth it to go to YouTube and watch the whole thing)