'SpongeBob SquarePants' Is 10!

Celebrate
SpongeBob SquarePants
' 10th birthday as VH1 debuts "Square Roots: The Story of SpongeBob SquarePants" tonight at 9 p.m. ET/PT.
The one-hour documentary chronicles the past 10 years of everyone's favorite perforated porifera, from his conception to his rise as a pop culture icon - drawing an astounding 70 million viewers a month and shown in 25 languages worldwide.
Creator Stephen Hillenbrand got his idea for the character while he was a student at the California Institute of the Arts, a career change he made after being a marine biologist. He tells the Washington Post, "Ten years. I never imagined working on the show to this date and this long... I really figured we might get a season and a cult following, and that might be it."
Tom Kenny, who voices SpongeBob, says the show's popularity "stems from Steve creating a world -- as surreal as it is -- that people like to spend time in."
But despite actor
Bill Fagerbakke
, who voices the show's resident starfish, Patrick, telling the
Post
that "SpongeBob" is "Just some inane pulp for preschoolers," some of SpongeBob's legions of fans the world over include the likes of
LeBron James
,
Rosario Dawson
,
Avril Lavigne
and
Ricky Gervais
. They'll all be featured in the documentary and add their comments about what makes "SpongeBob" so special to them; and fans will also get an inside look at the show with cast and crew member commentaries.
A 50-hour "SpongeBob SquarePants" marathon will kick off this Friday night at 8 p.m. on Nickelodeon.
Theme Song: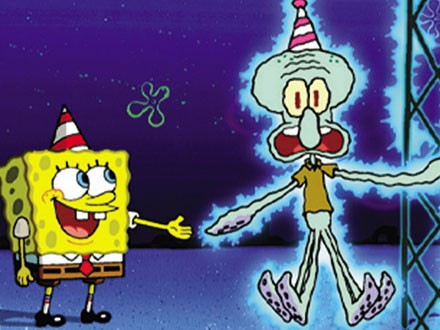 Image © Paramount Pictures