'SpongeBob SquarePants' Goes 3D In Trailer For 'Sponge Out Of Water'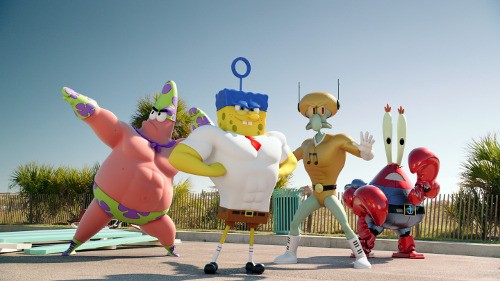 SpongeBob SquarePants is returning to the big screen, and this time he's going to go three-dimensional.
The first trailer for 2015's SpongeBob SquarePants: Sponge Out of Water just hit the Internet, and it features the titular SpongeBob appearing in our world thanks to Burger-Beard the pirate (played by none other than Antonio Banderas).
Apparently Mr. Krabs is in possession of the final page of a magic book that allows the user to make any evil plan written in it to come true, and Burger-Beard wants it. After it is stolen, SpongeBob goes on adventure that takes him to the real world in 3D.
At one point SpongeBob and his pals become superheroes in order to take down the pirate: Spongebob becomes Invincibubble, Patrick is Mr. Superawsomeness, Sandy is transformed into a real squirrel, Mr. Krabs becomes Sir Pinch-a-lot, and Plankton becomes a giant Hulk-like version of himself.
SpongeBob hasn't been in theaters since 2004, but his lingering popularity (the show's tenth season is set to air this year) has given him another chance. The first film was a financial success, earning back its $30 million production budget during its opening weekend.
Sponge Out of Water is set to hit theaters February 2015.