'Spirits in the Material World – A Reggae Tribute to the Police' On CD Feb. 19

Spirits In The Material World
brings together a mix of legendary reggae and rock artists to create a stunning set of strong new reggae versions of
Police
songs, both signature hits and fan-favorite album tracks.
Featured songs include "Every Breath You Take," "Can't Stand Losing You," "The Bed's Too Big Without You," "De Doo Doo Doo De Dah Dah Dah," "Invisible Sun," "Synchronicity" and more!
Produced by
Inner Circle
(creators of the "Bad Boys" hit
Cops
theme).
The Artists:

Toots & The Maytals
: A legendary name in Jamaican music, their first hits date back to 1963 at the height of the ska era. Many credit their "Do The Reggae" hit with naming the genre. Forty-years later, with Toots Hibbert now joined by his son and daughter, he is still going strong with his unmistakable vocals.
The Wailing Souls
: Starting out in Trenchtown as compatriots of The Wailers in the early Sixties, this four-man line-up a rarity in reggae music. Their shifting line-up has always featured the lead vocals of both Winston "Pipe" Matthews and Lloyd "Bread" McDonald. After experiencing cross-over success in the early Nineties, the new millennium finds Pipe and Bread re-joined by original members Oswald Downer and Norman Davis.
Horace Andy
: Blessed with one of the most distinctive voices in all of reggae, Horace Andy began with a string of hits for Studio One, including his classic "Skylarking." He has been a consistent presence on the reggae scene and, thanks to his work with trip hop pioneers Massive Attack in the Nineties, the international scene as well.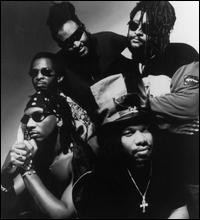 Inner Circle
: With original lead singer Jacob Miller, Inner Circle scored such indelible hits as "Tenement Yard" in the Seventies and were one of the first Jamaican bands signed to a major international label. After surviving the tragic death of Miller, their "Bad Boys" hit became the theme for the television show
Cops
. Today Inner Circle continues with original members Ian and Roger Lewis and Touter Harvey.
Ali Campbell of
UB40
: UB40 burst on the UK scene in the late Seventies with overtly political songs grounded in the punk-reggae rebel scene there. They then scored massive worldwide success with their versions of both reggae classics and American pop hits but they have continued to record socially conscious material. As lead vocalist, Ali Campbell has proven himself to be one of the finest reggae vocalists in the world.
Junior Reid
: Beginning as a protégé of the late Hugh Mundell in the early Eighties, Junior Reid became the lead vocalist of Black Uhuru when Michael Rose left in the mid-Eighties. As a solo artist he scored an influential hit with "One Blood" (sampled by many hip hop artists). Recently he sang on Mims' "This Is Why I'm Hot" hit re-mix and is featured on the reggae remix of Alicia Keys single "No One." He also performed the Keys single with the singer on the nationally-televised American Music Awards.
Cyril Neville
of
The Neville Brothers
: As the youngest of the four legendary Neville Brothers, Cyril Neville has always been the most politically oriented and committed to Pan-Africanism. As a result, Cyril made reggae a key component of his band, Cyril Neville & The Uptown All-Stars. He has also lent his gospel-rooted vocals and percussion to The Meters.

Lee "Scratch" Perry
: The celebrated producer/dub-master/recording artist Lee "Scratch" Perry has made some of the most original and important recordings in reggae history. A key architect of dub music, in recent years he has done relatively few dub-mixes, concentrating instead on mixing and producing European pop and rock groups as well as his own solo recordings.
Gregory Isaacs
: Known as "The Cool Ruler," Gregory Isaacs is a bona-fide reggae legend with literally several dozen major hits over his nearly forty years of recording. Along with Dennis Brown, he was the pre-eminent vocalists of the classic reggae era but went on to continued success in the dance-hall era.

Joan Osborne
: One of the finest female pop/rock vocalists to emerge during the past fifteen years, Joan Osborne recorded in a wide variety of styles, toured with
The Dead
and performed with Motown's
Funk Brothers
.
Pepper
: Emerging from Hawaii with its flourishing reggae scene, Pepper has been compared to both the Police and
Sublime
with their high-energy punk/ska/reggae/rock synthesis. Through relentless touring they've brought their signature sound to venues across North America.
Tarrus Riley
: The son of noted reggae singer Jimmy Riley, who was a member of the fabled Uniques and wrote the reggae classic "My Conversation," Tarrus Riley has emerged during the past year as one of the most promising new singers in Jamaica. His hit "She's Royal" brings a positive message that harkens back to reggae's classic era.
Monk Boudreaux
: Revered as the "big chief" of one the most important Mardi Gras Indian "tribes" from New Orleans--The Golden Eagles, Monk Boudreaux has also performed and toured with The Wild Magnolias. The Mardi Gras Indians are secret societies of African-American men dating back 150 years who "mask" as Indians...their unique vocal and percussion mix with its own language is at the root of much New Orleans music.
"Synchronicity I" -
Junior Reid
Listen::
"
Can't Stand Losing You
" - Pepper
"
Invisible Dub
" -
Lee "Scratch" Perry
"
One World (Not Three)
" -
The Wailing Souls
(Streaming audio and/or video links may expire without notice)